April 4, 2021: Easter
Dear Parishioners:
Alleluia and Happy Easter!
Alleluia because it is appropriate to "Praise the Lord" on this day for the great gift of eternal life that Jesus has won for us after first dying on the cross to pay for our sins.  We praise Him for His goodness to us.
We say Happy Easter because we Christians celebrate this commemoration of the Resurrection of Jesus, but we also know that because Jesus opened up Heaven by conquering death, He lead the way for us to be resurrected, too.  He was raised body and soul and we celebrate with the sure and certain hope that we will, too.
We "had given up" the word "alleluia" for the season of Lent to focus on our sins and our increase in holiness and love of neighbor.  Now, we joyfully celebrate that Jesus has been raised and our day should be filled with joy.
It is no coincidence that this season of rebirth sees the ground come to life with plants and flowers and a spirit of optimism.  This time last year, we were in the midst of fear and trepidation and uncertainty.  Conversely, this year we are full of hope and joy and we robustly celebrate that Jesus overcame death and gives us life.
Again, I say: Alleluia and Happy Easter!
Fr. Marc A. Vicari,
Pastor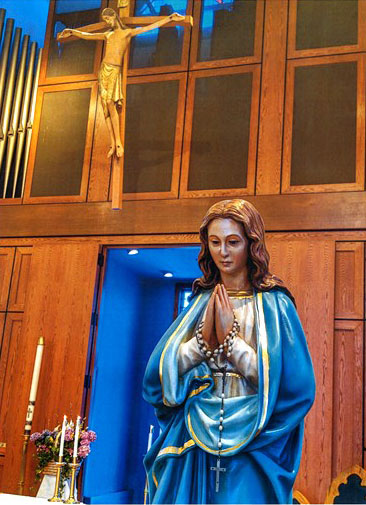 March 28, 2021: Palm Sunday of the Lord's Passion
Dear Parishioners,
This weekend we find ourselves at the very start of our Holy Week activities and what an exciting week it is!
Palm Sunday is the day that we historically celebrate Jesus's victorious and heralded entry into Jerusalem, when many in the crowd cheered him as he rode into the great city. Of course, some understood him as being the one who would save Israel, therefore they laid their cloaks and "leafy branches" down at his feet and in his path as a joyful way of welcoming him. They shouted, "Hosanna in the highest!" This is why we use palms on this day.
For many of the Jews, they recognized him as a leader who might rescue them from the oppressive Romans and perhaps their Savior. Later on, however, we also commemorate in our lengthy Gospel reading, that many turned their back, rejected and scorned Our Lord also while he was in Jerusalem. This led to his Passion, his suffering that led to death on a cross for us.
We cannot enter into this week without mixed feelings: the celebration of our salvation is at hand in just a few days, by the end of the week; but in the meantime we also commemorate the painful suffering of Our Lord in the days before. Again this year, I want to invite you to share in these emotional moments of our salvation.
As I mentioned, Palm Sunday has the cheers of Jesus entry juxtaposed to the jeers at his crucifixion. On Holy Thursday, we celebrate the institution of the Sacrament of the Eucharist as well as the beginnings of the priesthood, as we refer to those who celebrated the "that first Eucharist," the Passover meal with Jesus to be our first priests. Ordinarily, we would also celebrate and commemorate the mandate of service that all Christians are called to by having the washing of the feet at Holy Thursday Mass, but this year, because of restrictions, that aspect of the Mass will be eliminated. Nonetheless, we most passionately celebrate that Jesus left himself available for us to receive and to take part in the New Covenant, by offering us his Body and Blood. Reception of this Sacrament and its grace should be the drive for our service of one another.
Because our restrictions do not allow us to have a procession with the Eucharist around the church and downstairs to the lower church for adoration as well usually do each year, we will simply expose and adore the Blessed Sacrament on the altar for a few minutes for us to adore before the Host is reposed in our tabernacle and the final blessing is given.
On Good Friday, of course, we commemorate the saddest of our Christian events, when we again read the Passion, the story in the Gospel of John, that details our Lord's "Way of the Cross," particularly His suffering before and on the sacred cross. This, sadly, allows us to enter into not only the sorrows of the day Our Lord was crucified, but also it allows us to deeply reflect on and venerate the instrument of his death, the cross. This year, the veneration of the cross will be different than in the past, as no one will come forward to touch it, but instead, all will stay in their place, kneeling for a few moments, as a sign of veneration.
Of course, on Holy Saturday evening, we celebrate the most solemn of all liturgical events in our Catholic liturgical calendar: the Easter Vigil. The Vigil, is an ancient ritual that goes back to the very early church and usually gives us a beautiful visual of how, prior to Our Lord and the events of our salvation, the world was in darkness. It was his sacrifice on the cross that brought light into the world. Again, ordinarily, we would light our Easter fire and from that fire we would light our Easter candle. The small candles would illuminate the Christ the same way that Jesus' salvation brings light to the world. However, this year, again, because of our restrictions, we will simply light the Easter candle and process in with it until the lights of the church are turned on. A lot less dramatic, but no less important. After six weeks of our Lenten journey, we can now robustly celebrate Jesus' rising from the dead and the light of the world!
My prayer is that all of you will be able to enter into our Holy Week celebrations, either in person or at home while watching the live stream. It is a good time to pray and contemplate the saving events of Our Lord. Please consider attending mass in person safely, either on Palm Sunday or Holy Thursday. Attend our Good Friday Service. Perhaps too you might consider simply reading the Stations of the Cross as a family. Incidentally, this past week, one of our young parishioners who is about to receive his Eagle Scout award, installed Stations of the Cross in our back patio. That is another option for entering into this most sacred time of year.
There is an old sporting expression that says: "It doesn't matter how you start; it is how you finish." Even if this Lent has not the best you've ever had, there is still time for us to be very prepared for Easter. We all can still finish strong and I encourage all to finish strong by attending these Holy Week events either in person or online!
I look forward to celebrating the next week with you, commemorating the most important days of our Christian salvation and please remember: if you attend these events in person, please be sure to wear a mask, wash your hands and remain distanced from one another so that everyone stays safe and healthy and make sure to register for the events online if you will attend in person.
Holy week blessings to you all!
Rev. Marc A. Vicari,
Pastor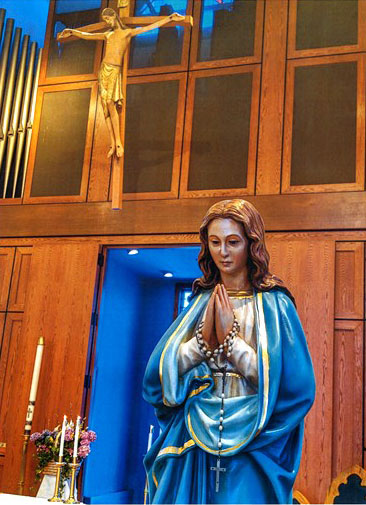 March 21, 2021: 5th Sunday in Lent
Dear Parishioners:
At the very beginning of Lent, in my bulletin message, I wished everyone a blessed and happy Lent. Hopefully this season has been a time of joy, in not only growing in closeness and holiness of the Lord, but in allowing our sacrifices to help us to be more charitable, more prayerful and more restrained in our desires and prepared for the Paschal Mystery that we celebrate in Holy Week. I want to use this message as an opportunity to remind everyone about what our sacred Paschal Mystery is.
In a sentence it is a celebration of the suffering, death, resurrection and Ascension of Our Lord. Celebrating the Paschal Mystery begins on Palm Sunday with our Lord's entrance into Jerusalem as we celebrate it that day. The Paschal Mystery concludes with Jesus' Ascension, His "going up" to the Father 40 days after Easter.
The phrase "Paschal Mystery" comes from the Hebrew word "pasch" or Passover. Obviously Holy week coincides with the Jewish Passover, so in some ways we have adopted the word. Recall the Jewish Passover was when the Hebrews fled Egypt and the Angel of Death "passed over" their firstborn males and later they safely passed over from Egypt to the desert. In adopting that same word Paschal, we have also adopted the idea that there is a Passover for us Christians, as Christ "passes over" from death to life on Easter Sunday, the core belief of our Christian faith, the Resurrection.
Of course, the word "Mystery" means that these events, the events that brought us salvation and begin in Holy Week and conclude on the Ascension, are divine and scared events that our finite, human minds cannot completely understand. These Paschal events are mysterious to us (just as the sacraments are) because of our human limitations. Only God can understand them completely. The priests who will be helping during Holy Week and I are so excited about celebrating these Paschal Mysteries with all of you.
I just want to let everyone know how Palm Sunday will occur next week. Because we are still under the directive that we are not allowed to hand out items, which is why we have not been handing out bulletins or the Orders of Mass, we are still not able to "hand out" Palm. Therefore, for Palm Sunday, our palm branches will be laid out on a table for you to pick up your own. It is obligatory that you only touch the one or two branches that you will be taking with you into church. We have to be very particular about this, in that we cannot touch the palms that other people will be taking, just our own. Once you have your palm branch, you can enter the church with it. The Mass will begin as a regular Sunday Mass; there will not be the extra Gospel reading at the beginning of mass and there will not be the blessing of the palms. The palms will be blessed simply by their presence during the mass. At the final dismissal, please be sure to take your palm home with you. I know this all sounds very particular, but in order for everyone to remain safe and healthy, it must be done this way. At the same time, please make sure that you are aware that there might be more people then we have experienced in the church in a while and that we need to accommodate one another so that we are spread out well and safely. Please make sure to sign up for masses, as well. Again, I look forward to seeing you all as we begin celebrating the Paschal Mystery on Palm Sunday. Obviously, Lent is not yet over and I hope that it continues to be a blessed and happy one for you as we get closer to the celebration of our salvation.
Lenten blessings,
Fr. Marc A. Vicari
Pastor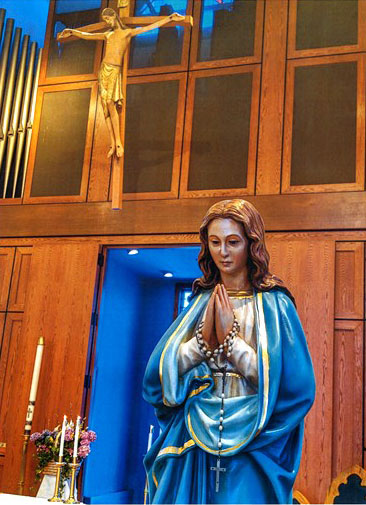 March 14, 2021: 4th Sunday in Lent
"Rejoice, Jerusalem, and all who love her. Be joyful, all who were in mourning; exalt and be satisfied at her consoling breast."
This is the entrance antiphon that is recited just before Mass begins for the 4th Sunday of Lent, this Sunday. Because it begins with the word "rejoice," which translates into "laetare," we call this Sunday "Laetare Sunday."  That prayer before the beginning of Mass reminds us that not only should we continue to rejoice during the Lenten Season, but that as we reach the midway point, we should be rejoicing because we are getting closer to Easter and the celebration of the Risen Lord and our salvation being won for us!  So as we come to and celebrate Mass this weekend, it would do us well to have that attitude of joy and rejoicing. It is also why we priests wear the rose-colored vestments; it is the sign of hope in the midst of what can sometimes be a difficult or gloomy Lenten season.
We also have many other reasons to rejoice, as we come closer to the end of our pandemic, we rejoice because the end is getting near! We all continue to see new faces at Mass and many whom we have not seen in a while. I rejoice because you are safely coming back.
We also rejoice because our Parish is continuing to do the great things that we do. We continue to collect food for the needy in our continuous food drive; daily Mass attendance continues to grow; so many of you have been generous in giving to the Annual Appeal and we rejoice because we are getting closer to our goal. We rejoice, also, because the sacraments that we celebrate this time of year, especially the springtime are all being scheduled and celebrated.  All of our second graders have celebrated their First Reconciliation and there will be First Communion Masses in May. Our eighth graders, our confirmation candidates, just as we did last year, are scheduled for Confirmation ceremonies in April.  Cardinal Tobin has delegated pastors to celebrate the Sacrament of Confirmation again, therefore, I will be presiding over these ceremonies.
The Archdiocese of Newark just informed all pastors of the directives regarding Holy Week this year and the good news is that we will have a Holy week this year unlike last year. Things may be different, but at least we will be able to celebrate Palm Sunday, Holy Thursday, Good Friday, the Easter Vigil and Easter Sunday Masses.  The three adults who will be received and fully initiated in the Church this year will celebrate initiation at the Easter vigil.     Of course, those who cannot come or still don't feel safe, all of those ceremonies will be live streamed.
So, dear Parishioners, there is great reason for rejoicing these days. We are halfway through Lent; the Paschal Mysteries of Holy Week and Easter are near; we are getting closer to the end of this pandemic and more and more people are coming back safely. We should rejoice!
Blessings and joy,
Rev. Marc A. Vicari,
Pastor
PS: Last week was Commitment Sunday on March 6 and 7. If you did not get a chance to bring your Annual Appeal envelope to church last week, please do so this week, as every offering makes a great difference in us reaching our goal. More importantly, however, is that it will be helping the most needy and marginalized in the Archdiocese of Newark.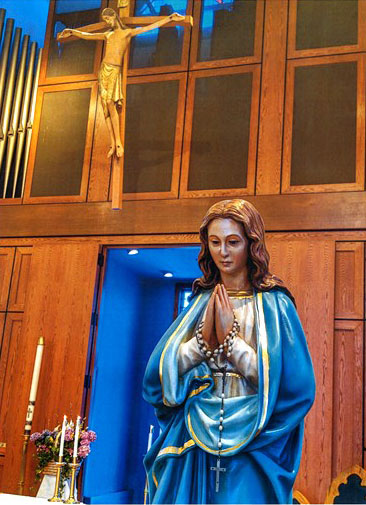 March 7, 2021: 3rd Sunday in Lent
Dear Parishioners,
I hope this finds you all well as we get closer to not only spring and the Easter Season, but to finally getting through the Covid crisis.  Last week, someone asked me how many people from our Parish died of the virus, and I responded, "Zero!" Thankfully, while we know that some relatives and friends of our Parishioners have been stricken by and succumbed to the virus, I am not aware of any of our Parishioners who did. Thankfully, I am not even aware of anyone who may have contracted the illness at church. That is a true testament of all of you and your willingness to follow the guidelines and the restrictions of both the CDC as well as the Archdiocese of Newark. While we are not "out of the woods" yet, I believe that your diligence has saved many from being sick and perhaps even saved lives! Thank you for being so conscientious and accommodating!
You probably have heard that last week Governor Murphy announced that houses of worship, obviously, churches included, are allowed now to open up to 50% of capacity. I just want to clarify this for a moment: our church's capacity is about 450 persons. 50% of that is obviously 225 person. Because of social distancing, everyone needing to be six feet apart, it is impossible for us to accommodate that many persons. However, it does allow us to be a little bit more flexible with our seating.
For the past few months, we have had ribbons up on every-other pew in order to maintain distance from front to back. But seeing how we have been so conscientious as a Parish about distancing ourselves, I will be removing the ribbons from between the pews and this will allow us to have individuals seated in each pew as long as they are distanced from each other. After a year of this, we all know what "six feet" looks like as far as social distancing goes. I trust that we will able to gauge that when we are seated as individuals, couples or families. I ask you all to be very aware of that and to accommodate one another: that may mean allowing people past you to get to the middle of the pews or even you moving to the middle yourself so that we can fit more people and also remain safe.
The trend that I have been seeing is that more people are coming to Mass. This is a great sign as I believe that many people are hopeful for not only an end to the virus but a return to Mass. It is important that we do look out and accommodate one another so that we are all safe, yet able to worship in a larger group safely.
About two weeks ago, our archbishop, Cardinal Joseph Tobin released a Pastoral letter on the Eucharist. This is a beautifully written letter to the Faithful, not only encouraging us all to return to Mass and the Eucharist when it is appropriate, but it is also a wonderful reflection on how important the True Body and Blood of Christ is for us Catholic-Christians. While live streaming has and will continue to serve an invaluable purpose for us, as it allows many to stay connected to our Parish and to worship at home, it will not become the norm. As I have said many times, there is no substitute for the Eucharist, Jesus' True Presence, in our lives. Our Cardinal's reflection is written beautifully and very pastorally.
Like many of you, I am excited that we will be able to celebrate the whole Lenten Season this year, including Holy week. As the restrictions are being lifted and new directives are being explained, I will share with you what we are doing in the weeks ahead. While Holy Week, which begins with Palm Sunday, will not be exactly the same as in years past, at least this year we will be able to joyfully celebrate them in person.
I continue to look forward to celebrating the liturgies of Lent, Holy Week and the Paschal Mysteries of the Easter season with all of you.
God bless and stay healthy!
Fr. Marc A. Vicari,
Pastor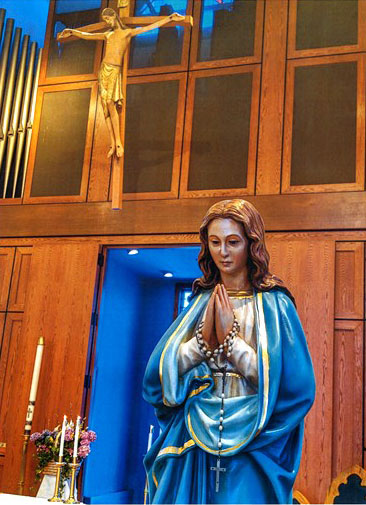 February 28, 2021: 2nd Sunday in Lent
Dear Parishioners:
Last week I wished you all a "Happy Lent," hoping that this time of intense spiritual practice and commitment will be not only fruitful, but also joy-filled because we will soon be celebrating the Passion of Our Lord that claimed a victory over sin and conquered death for us.  The promise of eternal life with God has been won for us, and in another month or so, we will celebrate that glorious victory of Easter.  In the meantime, however, we practice our Lenten discipline in order to be fully prepared for that great celebration.
This is why we fast, pray and give alms (charity), in order that we will practice these disciplines so that they will carryover after Easter and continue to be part of our lives, and, specifically, our spiritual practices.
While "giving something up" like sweets or video games or watching television can be fruitful and is a long-time practice of many Christians and will oftentimes help us to "be strong" in order to resist temptation and sin.  It is not the only discipline that we can work into our Lenten practices.
Pope Francis has spoken often about the power of our words and how they affect others.  Good words can lift others up while cruel words and gossip and calumny can destroy others.  He has suggested that we "fast" from the evil behavior of malicious talk.  Lent would be a good time to restrain ourselves from that which is spoken and can be hurtful.  "Fasting" from bad behavior like this is a good thing.
At the same time, the Sacred Scriptures tell us what God wants from us when it comes to the type of sacrifice He desires.  The prophet Isaiah tells us of God's desire for our sacrifice in the 58th chapter of Isaiah:
Thus says the LORD:
If you remove from your midst oppression,
false accusation and malicious speech;
If you bestow your bread on the hungry
and satisfy the afflicted;
Then light shall rise for you in the darkness,
and the gloom shall become for you like midday;
Then the LORD will guide you always…,
If you hold back your foot on the sabbath
from following your own pursuits on my holy day;
If you call the sabbath a delight,
and the LORD's holy day honorable;
If you honor it by not following your ways,
seeking your own interests, or speaking with malice
Then you shall delight in the LORD,
and I will make you ride on the heights of the earth;
I will nourish you with the heritage of Jacob, your father,
for the mouth of the LORD has spoken.
The prophet Isaiah gives us a wonderful compilation of items that the Lord would like to see us do when we are sacrificing.  These can all be very much part of our practice for the Lenten season and it is not too late to incorporate Isaiah 58 into our Lent.
Just a reminder: The Day of Commitment for our Annual Appeal is March 6/7.  We have received about $15,000 toward our parish goal of $83,000.  If you have not yet contributed to our Annual Appeal, please make sure to bring your envelope to Mass with you either March 6 or 7 and simply drop it in the basket with your Mass offering.  Remember that our Appeal's intentions are focused on not only spreading the Gospel, but helping the poor and marginalized: those whom the prophet Isaiah makes reference to in the above reading.  It also is very much in line with our Lenten disciplines of prayer and giving to charity (almsgiving) to help the needy.  Please be generous and helpful in our parish meeting its goal.
I continue to pray that this Lenten season is one of grace for all of you.
Happy Lent,
Fr. Marc A. Vicari,
Pastor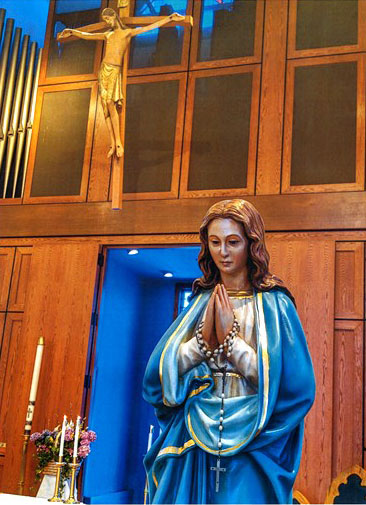 February 21, 2021: 1st Sunday in Lent
Dear Parishioners:
I am sure it seems strange, but I want to wish everyone a "happy," peaceful spiritually fruitful Lenten Season.  Usually we do not think of Lent as happy time, but the season does not need to be gloomy or tough on us.  Lent is a wonderful time to recognize Jesus' great sacrifice for us and it gives us six weeks to "enter" into the season; a time to share in his sacrifice and his suffering so that we can ultimately share in the glorious celebration of Easter.  Preparing for Easter really begins at the start of Lent and it can be a happy time. 
Last year, our Lent was seemingly shorten because of the pandemic.  We had begun our Lenten journey, but it felt like it ended when the church restrictions began.   Live streamed or Zoom Masses and services were just not the same.  Many of us certainly felt like something was missing.  Fortunately, this year the churches will be opened and we will be able to celebrate the season.  I suggest that we really do it right this year in order to make up for the previously abbreviated Lent.
Remember that the pillars of our season focus on fasting, praying and almsgiving (charity).  While we so often think of what we are going to "give up," the tradition of suffering in a small way to share the cross of Christ, this certainly can be very effective, as we use days of abstinence and fasting as days to reflect on Jesus suffering.  Since Jesus died on a Friday, that is why we abstain from meat on Fridays because our "inconvenience" of not eating meat reminds us of the Good Friday suffering that Jesus went through for our salvation.  At the same time, however, increased prayer in order to grow in holiness and to be spiritually prepared for the Easter mysteries is one of our goals as a Church.  Increasing our almsgiving, our charity toward others is another way for us to think about others who are needier than we are and sacrifice a bit by putting them ahead of ourselves, the way Jesus did for our salvation.
The first reading for the Ash Wednesday liturgy from the Prophet Joel, reminds us of the purpose of the season: to "return to the Lord with your whole heart." Fasting, praying and looking to help the needy are all wonderful ways to celebrate the season, coupled with our own sacrifices of "giving something up" or "doing more of something good" are perfect ways to spend the season.  At the same time, that same reading says, "let the priest, the ministers of the Lord, weep, saying, 'Spare, O Lord, your people.'"  Certainly these will be my prayers for our Parish: that the Lord will spare you all from anything that leads you away from the Lord, and, asking that He will help you to make a great time of fasting and prayer dedicated to our preparation.
After missing so much of Lent last years, let's really do Lent "right" this year.  Know that I will be praying for everyone to have a successful and grace-filled season.
Happy Lent everyone!
Blessings,
Rev. Marc A. Vicari,
Pastor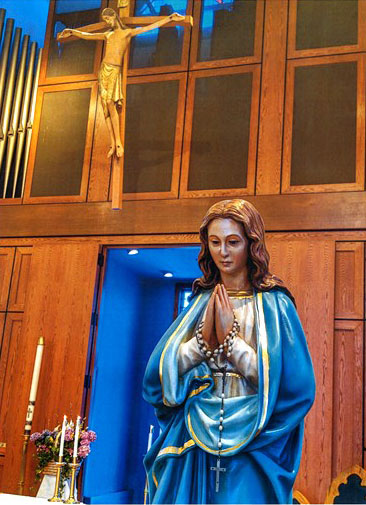 February 14, 2021: 6th Sunday in Ordinary Time
Dear Parishioners:
At the Masses this Saturday night and Sunday, the priest celebrating the Mass will be blessing married couples and their wedding rings if they have them on. Ordinarily, we would be celebrating World Marriage Sunday this weekend as a way of blessing Christian marriage and renewing the grace that married couples received on the day of their wedding. Unfortunately, we will not have this celebrations like we had in the past, which have always been great fun.  Instead, we will simply be blessing our faithful Christian married couples.
We always do this on the weekend closest to St. Valentine's Day and coincidentally, this year St Valentine's Day falls on Sunday. There is not much known about the saint, but what we do know reinforces why he is the patron saint of Christian love. Legend has it that Valentine was a priest in the city of Rome during the Roman Empire. He probably lived in the middle of the third century, when Christians were being persecuted terribly. As a priest, Valentine would often times help Christian couples who wanted to be married.  The problem was that it was illegal to be a Christian in the Roman Empire, therefore, they were not permitted to get married and it was also illegal simply to help Christian. Valentine thought this was unjust as Christian men and women who were in love should be able to marry, so he would secretly celebrate matrimony with Christians. 
It was also illegal for Roman soldiers to be married because the emperor, Claudius, and prior emperors believed it was a distraction from their military service. Valentine would also celebrate soldiers' weddings, too, but when the authorities, especially Emperor Claudius found out, he was severely punished and, and ultimately, executed. The color red has always been associated with St Valentine because it is the color of Martyrs, especially because of the blood that had been spilled by their martyrdom.  This is probably why see so many red hearts on St. Valentine's Day, as it is a symbol of hearts in love with each other.  Because of Saint Valentine's willingness to celebrate Christian love, even though it was illegal at the time, over the ensuing years he has become the patron saint of couples in love universally. So, Happy St. Valentine's Day, everyone!
While this Sunday is the Sixth Sunday of Ordinary time, it is the last we will see the green of Ordinary Time for a while.  Wednesday is Ash Wednesday, and it begins our Lenten season.  Please read the Lenten regulations that are published in the bulletin. These regulations are similar to what we have printed in the past. This Ash Wednesday, will be different than in the past. As I mentioned last week, the ashes will be blessed and the formula, "Remember you are dust and unto dust you shall return," will be said just once. Then, those who are receiving ashes, will come forward and the ashes will be simply sprinkled on the top of each person's head and no words will be spoken. This is different than in the past, as no ashes will be placed on anyone's forehead. This Ash Wednesday restriction comes directly from the Vatican, so throughout the world this is how ashes will be distributed in the Catholic Church.
I look forward to this year's holy season of Lent and celebrating it with you all. Last year, our Lenten Season was abbreviated because of the outbreak of the virus, but hopefully this year it will be celebrated uninterrupted straight through until Easter Sunday.  Lent is such an important season because it helps us to refocus on the wonderful saving work that Our Lord has done for us and the great sacrifice he has made for us. We highlight all this during Lent as we prepare for Easter Sunday and that is one reason we make our "Lenten sacrifices."   These sacrifices are usually in the form of "giving something up," praying more and being more charitable which will help the poor.
I know many of you are beginning to come back to the church and it is wonderful to see. None of our church restrictions has been lifted, so remember that we need to continue to socially distance, wear our masks when we are in the church building and follow the protocol for moving within the church. You all have been so wonderful in following the restrictions, so thank you.
Have a wonderful St Valentine's Day and an even more wonderful Lenten Season.
Blessings,
Fr. Marc A. Vicari,
Pastor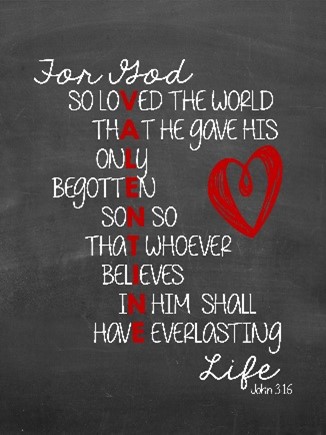 February 7, 2021: 5th Sunday in Ordinary Time
Dear Parishioners:
Last week, one of our very dedicated CCD teachers sent me an email with a question. One of her students said that he had watched Mass on the live stream but that during the Mass he, "heard another language." The teacher believed that it was Latin that he heard, but asked me to explain why we use "another language" during Mass. Some of you may have the same question, so included is the question and my response just in case you, too, are curious
Question:
Hi Father Marc,
I was posed a question from one of my students in CCD regarding the use of another language (Latin) in the Mass.  He explained to me that when he watched the Mass on his computer, he heard "another language."  His mother told him it was Latin, but didn't know why it is said in Latin.  I guess he is referring to the "Agnus Dei."  At times, I questioned it in my own mind, but never thought to ask.  I tried looking it up, but no answer.  Can you help me to help this little boy know "why?"  I am grateful he is curious enough to ask.  Have a great day!
My response:
Dear CCD Teacher:
Thanks for the note and the question and I hope this finds you and your students well!
That is such a good question.  Remember that the Mass was in Latin in the Roman Catholic (aka Latin Rite) Church until it switched to the vernacular after the 2nd Vatican council (1962-1965).  For centuries the Mass and all liturgies (baptisms, weddings, etc.) were in Latin because it was the universal language of the Church.  Masses were in Latin in China, South America, North America, Europe and all throughout the world because it was the common language for all worshippers.  There was great value to this at the time because regardless of where a Catholic attended Mass, he/she would understand what was going on and be able to respond.
When the Mass was changed to the local language of the people, the Church (and the documents of Vatican II) encouraged liturgies to maintain some of the Latin, which we do.  That is why sometimes we have the choir sing certain pieces in Latin and we have some responses in that language.  The "Sanctus (Holy, holy, holy)" and the "Agnus Dei (Lamb of God)" are perfect examples of maintaining some of the language and realize that the translation from Latin is the exact same response as we say in English.  So we are not "saying" anything different; we are just saying it in a different language.
Now, just one slight difference is that the "Kyrie Eleison" which translates into "Lord, have mercy," is what we sometimes say in the Penitential Rite, as we "call to mind our sins." This is Greek, not Latin.  We probably do this because Greek was one of the original languages that Mass was celebrated in, among a couple other reasons.  Therefore, "another language" is probably Latin, but there might be some Greek, too.
Fr. Marc
In another week and a half we will be starting the Lenten Season a penitential season. Ash Wednesday is on February 17th. Please check the bulletin and announcements about the schedule for Ash Wednesday. We will have one Mass at 8:15 and two services with only ashes distributed. This year, because of the pandemic, we will be doing things a bit differently and I want you all to be informed of it. For the distribution of ashes, the Vatican has given directives on how they are to be distributed in all Catholic churches throughout the world. As we usually do, we will bless the ashes at the beginning of the Mass or service. Before the ashes are distributed, the formula will be said just once ("Remember you are dust and unto dust you shall return" and then those who are receiving ashes will come forward as if they were receiving Holy Communion. The assisting minister or I will not say the formula for each person, but will instead only sprinkle ashes on the head of each person. Obviously this will be contactless distribution of ashes. The method of sprinkling the ashes as we will do it is much more popular in Europe and other nations than here in the United States. After the distribution of ashes, people will return to their pews for the rest of the Mass or service.
Obviously, this will be a bit different this year, but it is the best way to go about it and I appreciate both your flexibility and your understanding.
The Lenten regulations are also in this week's bulletin, as it is a reminder of what both days of abstinence and days of fasting means, as well as who is bound by the regulations. Please be sure to read them. At the same time for any serious reason, if someone who falls into the group of regulation needs to be dispensed from fasting or abstinence, the law of the Church (Canon Law) requires that that person contact his or her pastor for a dispensation. Therefore, if you believe that you need to be dispensed from a particular Lenten regulation, please call the parish to speak with me.
Next, as far as Palm Sunday and Holy Week go, we are still waiting for directives from both the Archdiocese of Newark as well as, possibly, the Vatican. I will keep everyone informed about what we are doing as I find out.
Finally, a few weeks ago you probably received a letter from Cardinal Tobin about the Annual Appeal and inviting you to contribute to this most worthy campaign that Proclaims the Gospel, Passes on the Faith, and Helps those who are Marginalized in our Society. Since Lent is a time of both sacrifice and almsgiving (charity), I would ask you to consider making your Annual Appeal contribution during the Lenten Season. In particular, as the Cardinal mentioned in his letter, Commitment Sunday will be March 6th and 7th, and all parishioners are asked to drop off their Annual Appeal envelope in the basket during that weekend. If you didn't receive an envelope or can't find yours, we have them in the church as well as the Parish office.
In the meantime, I pray that you all stay well and healthy. I look forward to seeing you all, especially during the holy season of Lent.  Please don't forget to continue to sign up for Masses as well as Ash Wednesday services.
In Christ,
Fr. Marc A. Vicari,
Pastor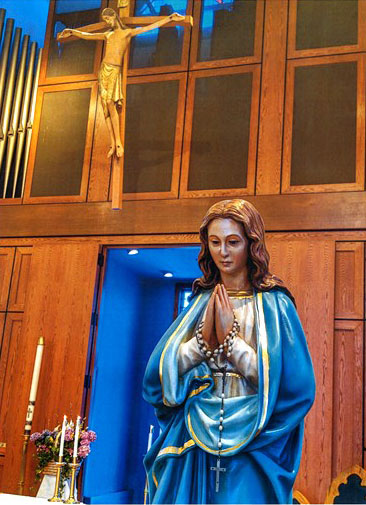 January 31, 2021: 4th Sunday in Ordinary Time
Dear Parishioners:
I am so happy to be celebrating Catholic Schools Week this Sunday, as it gives us an opportunity to not only celebrate the blessing of Catholic Schools and their importance in our culture, but in particular, we can celebrate our very own Catholic school and our school really is worth celebrating!
St. Cassian School would not be the success that it is if it were not for so many people, especially our principal, Mrs. Maria Llanes, who has done such a wonderful job since she began about seven years ago, but especially has done a miraculous job this year in not only preparing the school with live stream cameras in every classroom, rotating schedules, nightly sanitizing, building upkeep and so many other things just this year in order to keep the school running in the midst of the pandemic.  I did not even mention everything else she has done to make our school so great and qualified to be awarded the National Blue Ribbon award a few years ago.  Thank you so much, Mrs. Llanes!
Included in making the school so great are all the staff and faculty of St. Cassian School.  Our teachers are so dedicated and enormously sacrificial in teaching our schoolchildren not just the core subjects, but the arts and religion.  You will never find a greater faculty staff and part of that teaching staff is Ms. Amanda Bordogna, our fifth and sixth grade teacher who was nominated and won the Archdiocesan Teacher of the Year (see more at https://www.rcan.org/qa-2020-teacher-year-amanda-bordogna).  Congratulations to Ms. Bordogna and all the teaching staff, as I believe all of our teachers are fine enough to win the award.
Our office staff and support staff, the "face" of our school are wonderfully cheerful and competent in dealing with teachers, parents, staff and especially students.  They "fly under the radar" oftentimes, but are truly essential for the success of the school.  I would be remiss if I did not brag about our maintenance staff who not only keep the building sanitized and safe, but incredibly immaculate!  Thank you Ms. Olivia, Mr. Cosmo and Mr. Shawn.
Finally, the school would a school without students and their parents who sacrifice in order to have them come here.  Our students continue to learn and thrive even during these tough times.  They have been adjusting to the rotating schedules and both the in-person and remote learning, but it is always best to see them in person, whether it is in the classroom, in the playground or in a "Google Meets" Mass or gathering.
Our principal, our students, faculty and staff members are only able to do all this, especially during these days, because of God's goodness and His grace, therefore, we praise God always, but especially during this Catholic Schools Week.  The theme of the week is: Catholic Schools: Faith. Excellence. Service.  We see all these in our little parish school of St. Cassian and it is no wonder that our school is so full and thriving!
Please excuse me for bragging about the School so much, but know that I brag just as much about the parish and all you parishioners just as much to anyone who will listen!
Please stay well everyone and I am enjoying seeing you coming back to church little by little.   I hope to see you all again soon.
Blessings,
Rev. Marc A. Vicari,
Pastor
Please be aware that we will be able to distribute Ashes on Ash Wednesday, but there are restrictions that must be followed.  I will include them next week in the bulletin and in our announcements.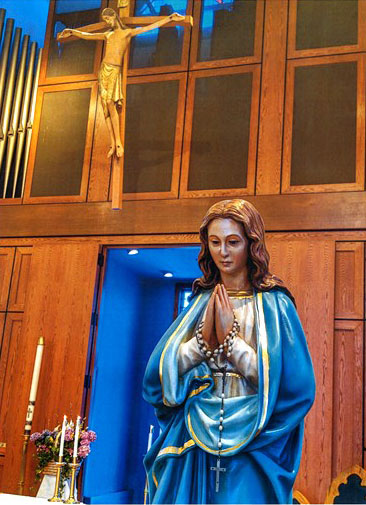 January 24, 2021: 3rd Sunday in Ordinary Time
Dear Parishioners:
I write this to you with the hope that everyone is doing well.  I wish I could say that life is returning to normal, but, unfortunately, that seems like it might be a little while for that.  We all keep doing the best we can, I'm sure.
This past weekend, we kicked off our Annual Appeal Campaign.  If you attended Mass in person, you saw the video and heard me say a few words about the Appeal.  If you were on the livestream, you would have seen it, too.  I want to use this as an opportunity to goes over a few things regarding the Appeal.
Our goal is $82,300 and this number is based on our ordinary revenue from 2019.  We are encouraged by the Archdiocese to reach our goal this year by June 30, 2021 and if we do, we will have we will have a 2% reduction in our assessments for the next year.  We already pay 18% in assessments, so the reduction would certainly be helpful. And on top of that, once we reach our goal, all the money collected will return to the Parish!
If you heard my very brief homily and mention of the Appeal, then you heard me speak of how sharing in the Appeal is sharing in the work of the Archdiocese, but more importantly, sharing in the work of Jesus who asks us to take care of the hungry, naked, the prisoner and the needy.  The Appeal gives us a vehicle as a Parish to share in this work of Christ.  As the Cardinal stated in his message, all the monies collected go directly to the ministry that provides help for those in need.
Also, the purpose of the Appeal is to proclaim the Gospel, pass on the Faith and help those on the margins of society.  While the pandemic has crippled many of us: parishes, businesses, individuals, etc., it was been especially difficult for those who were already needy.  This Annual Appeal targets them in a special way.  Please consider you gift to this most worthy campaign.
As registered Parishioners, you should have received an initial letter from Cardinal Tobin, asking your help in the Appeal.  If you need an Appeal envelope, we have plenty in the back of the church and I ask you to please take one.  Our official "in-pew" Commitment Sunday will be on March 6/7 when we will ask everyone to drop off their Appeal envelopes, but if you would like to drop your gift off earlier, feel free to put the designated envelope in the basket at any time (that is what I did last week).  Please know how much I appreciate your kindness and generosity with this important Christian mission.
On a separate note, with the upcoming Lenten Season approaching on Ash Wednesday on February 17, we will be doing some things a bit differently because of the restrictions.  This includes distribution of ashes and palms on Palm Sunday.  We will do everything in accord with our directives from the USCCB. I will keep everyone informed of the procedures as I receive them.
In the meantime, please stay safe and resilient as we, hopefully, begin to see the end of this crisis, especially with the vaccine becoming more available.  It is so encouraging to see some of you safely returning to Mass.  There is no substitute for the Eucharist!
Please be well and assured of my prayers for you all, the wonderful Parishioners of St. Cassian.
Blessings,
Fr. Marc A. Vicari,
Pastor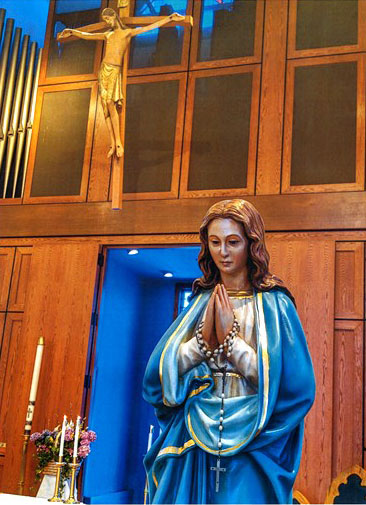 January 17, 2021: Second Sunday in Ordinary Time
Dear Parishioners:
Since this past Sunday when we celebrated the Baptism of Our Lord and brought the Christmas season to its completion, now we begin the liturgical season of Ordinary Time.
When we think of Ordinary Time, we often times think of the green investments that the clergy wear and a toneddown sense of solemnity that we have in the church. For many people it just seems like an "ordinary" time of year, where there is nothing special going on. That's not the truth, however.
There are two significant items about this season that are particularly worth knowing. The first is that the reason why it is called "ordinary" is because the year is ordered by weeks: from the First Sunday and week to the 34th week of Ordinary Time. It gives us a sequence, an order to our church calendar. It is practical like that.
Secondly, and probably more importantly, though, is that Ordinary Time is when we focus on many of the teachings of our Lord. It's when at Mass we read and study things like the parables and the miracles and the lessons that our Lord taught to his disciples and to us. All of these point toward the Kingdom of God that Jesus began forming when He began his public ministry that began after His baptism.
Think of this: What Solemnity concludes the season of ordinary time? It is the Solemnity of Christ the King, the King of the Universe. This may seem so far away, but we simply focus on Jesus' teachings in order to learn the lessons again on how to build the Kingdom of God and we conclude it with recognizing him as the King of the Kingdom of God on earth universally, as well as in heaven. We would do well, to keep this in mind as we go through Ordinary Time both now and then again after the Easter Season. Through it all we are focusing on a primary responsibility as Christians: to build the Kingdom and to serve Christ the King!
I want to take a moment to say what a beautiful Christmas Season we just concluded. It was wonderful to see so many people at Mass (as permitted by the restrictions), both new parishioners and regulars, as well as faces I have not seen in a while. Thank you for your generosity as well as your participation in the church as well as at home. I am looking forward to each week when I see more and more coming. Thanks so making Christmas so wonderful even in trying times.
Finally, it is that time of year that we will be showing the video at Mass this week for the Annual Appeal. I will say a few words about how the Appeal is so important for so many needy people in the Archdiocese. As important as reaching our goal is, I believe that it is equally important to have everyone in the Parish participate in giving. Feeding the hungry and clothing the naked is not an Archdiocesan mandate. It is what Our Lord asks us to do and there are plenty of people in this Archdiocese whom we can help.
As we begin the new year of 2021, I continue to pray for you all: that the Lord will help you all to stay safe and to be healthy and holy throughout the year.
Blessings,
Rev. Marc A. Vicari
Pastor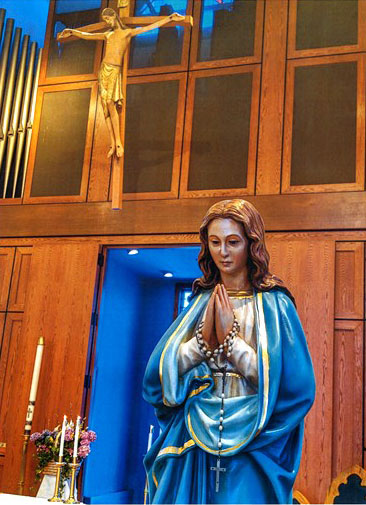 January 10, 2021: The Baptism of the Lord
Dear Parishioners:
Happy New Year and I pray this year will be a happy and healthy one!
This week is the last days of the Christmas Season and I think it is important to reflect on what we have celebrated during this brief, yet important, season of Christmas.  We celebrated that God became man and dwelled with us, as a little baby, the he honored by both shepherds and kings from far off lands.  The three Magi, honored Jesus as the newborn King and "light of the nations," which was not simply an honorific, but more importantly, foreshadowed Jesus as the savior of the world and the King of the universe.  The Epiphany makes us think of the end of our Church year, when we celebrate the Solemnity of Christ the King of the Universe.  At Christmas, we nostalgically gaze upon the baby Jesus in the manger and the visiting shepherds and especially the Magi and think how beautiful that visit was, but it is important to recognize how prophetic it was at the same time: Jesus was born to be Our King, the King of the Kingdom of God and the King who would return to just us all.  The little baby would become our King.
Throughout history, many kings proudly believed that they were divinely appointed to their position and that their subjects were under them to serve them. Our newborn King never held that position; instead, God our King lowered himself to become one of us, to be in solidarity with humanity and to share in our human joys and sufferings.  God truly became one of us and not to be served by his subjects, but to serve us, by teaching us to love and to sacrifice and to offer himself for us.  This Sunday we celebrate the Baptism of the Lord: a very clear reminder that, although Our Lord was without sin, he joined humanity in a ritual specifically for sinners in order to reveal himself completely as one of us, just without sin.  How blessed we are to have a savior as we do in the Lord Jesus!
I want to use this as an opportunity to inform you all of a few important items: Next week, all registered parishioners will be receiving a letter from Cardinal Joseph Tobin, our Archbishop as an initial contact about this year's Annual Appeal, so please expect a note from him asking for your generosity and cooperation in helping make it a successful Appeal for 2021, as we, the Archdiocese of Newark, use this Annual Appeal as a way of helping the neediest in the Church and at the same time to build up the Kingdom of God.
Next, there have been some changes in our parish office that I would like everyone to be aware of: Eileen Ziegler, after 23 years of being the Parish Secretary, retired on December 31st.  We will miss her in the office, however, she will still be an active parishioner, so she will still be around.  Eileen is replaced by Jane Ryan our new Parish Secretary.  At the same time, the business office has seen some changes, as Walter Springer who was the Business Manager in the parish is now the Operations Assistant, assisting me in some of the day-to-day operations.  Nick Cofone is the new Parish Bookkeeper and will be working closely with me and the Finance Council to keep our finances running smoothly.  Lastly, many of you have asked about Stephen Powers, our Parish Director of Music.  Stephen has been out for nearly two months with some health issues and is recovering nicely and we expect him back in a few weeks.  In the meantime, I have hired Valerie Shondel to be the full-time temporary Director of Music until Stephen returns.  So far, everything is still running smoothly and I welcome our new employees and these changes.
I wanted to give a brief update on what is going on in Cite Soleil, Haiti and the St. Cassian Pediatric Nutrition Center that so many of you have so generously supported.  The demolition of the part of the building that is no longer being used has taken place and once that is complete and cleared away, the building that will be used as the Pediatric Center will begin to be constructed.  There are photos of this demolition here in the bulletin and I will keep you updated on the next stages.  Dr. James Morgan, our parishioner and co-founder of Lamp for Haiti, has been wonderful in keeping me abreast of everything and is very appreciative of all your support.
Again, Happy New Year everyone and how blessed this Parish is to have Parishioners like you!
Most sincerely,
Fr. Marc A. Vicari.
Pastor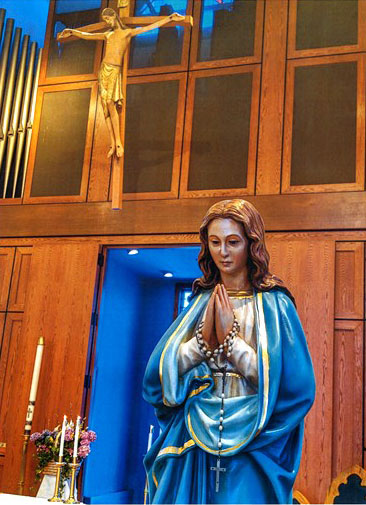 January 3, 2021: The Epiphany of the Lord
Dear Parishioners:
Hopefully these seasons of Advent and Christmas have been and will be a great time of grace for all of you. What a difficult year this has been and so many have expressed how we all cannot wait until 2020 ends. 2021 will certainly be a better year.
As we bring this year to a close, I think that it is important that we reflect on these Church celebrations and how in some ways we ourselves have entered into the Christmas story. The fourth week of Advent continues to be a time of prayer and anticipation for something greater. In the Scriptures everyone is anticipating the Savior to make their lives better because of the gift of the promise of salvation. Mary and Joseph, while going through very difficult times, trusted completely in the Lord that everything will be alright. For them, just like us during this year, life threw them many "curveballs," but for them, just like for us, when we trust in God, even though we don't we always understand His will, we know we can anticipate the joy to come. This was the attitude of the Blessed Mother and St. Joseph and during Advent, undoubtedly, it has been our attitude as well
And the joy only gets greater on Christmas when Jesus, the cause of our joy is given to us as a gift. Not an ordinary Christmas gift, but God in the form of man, as a gift to us for our salvation.  Mary and Joseph were overjoyed because they had a newborn son and we are overjoyed because the means of our salvation has entered into the world. If Jesus had not been born, then he could have never been offered on a cross for us and Heaven would never have been in our grasp.
Just a few days after Christmas we celebrate the Feast of the Holy Family. What a beautiful celebration that is, especially this year, with so many families having difficult times, particularly because of the pandemic, and the various situations we find ourselves in as families. Just days after Christmas is certainly an appropriate time for families to be grateful not only for each other, but for persevering and enduring together during this tough time. Hopefully, this Feast of the Holy Family will give us a respite from our family struggles as we anticipate the New Year.
Of course how excited we are for the New Year and the new hope that is given to all of us in our Parish, at home, in our nation and all throughout the world,. This dark year, this dark winter will give way to the light of a bright, blessed and grace-filled and healthy New Year!  These days, we very much enter into the historical events of 2,000 years ago, and like then, we struggle now, only to come to know the glory and joy of the Incarnation: God becoming flesh.   May God continue to bless all of us and all our loved ones as we joyfully look forward to not only the celebrations of our salvation, but a fresh start in the year 2021!
I also want to take this opportunity to thank all of you for your patience throughout the pandemic and all the restrictions that we have had to abide by. Rest assured, as soon as we can go back to "normal," we will. In the meantime, though, I ask everyone to continue to follow all of our guidelines, especially in the church. You must sign up for Mass for Christmas Eve, Christmas Day and the weeks after, as we are expecting an influx as we do each year. The "Signup Genius" on the Parish website will not accept more registrants than have been allotted, so if you attempt to sign up for a Mass that is already full it won't allow you. If that is the case, simply sign up for a different Mass. I just need you to be a little more flexible than usual, especially this holiday season, and at the same time, please realize that my biggest fear is that we will have to tell people who have not signed up, but come to church, that we do not have safe space for them. So, please either call the Parish Office or sign up online. At the same time, remember that you must have a mask to be in church, please be sure to social distance, bring your own hand sanitizer and be attentive to the instructions during the celebrations.
These next few weeks will be different than we've ever experienced, but they should not be any less joy-filled than before.  Be assured of my prayers for you and your loved ones all throughout these next beautiful weeks.
Christmas blessings to all,
Fr. Marc
Rev. Marc A. Vicari, Pastor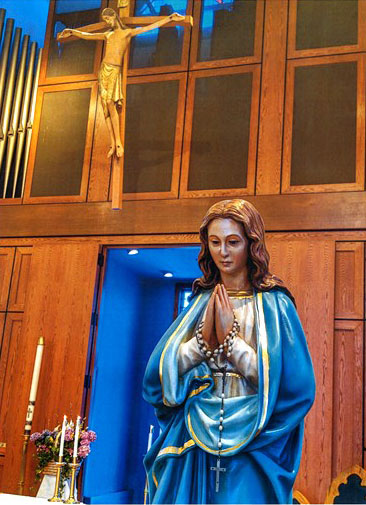 December 13, 2020: Third Sunday of Advent
Dear Parishioners:
Happy Advent!  May this time of waiting, preparing and being watchful for the coming of the Lord be grace-filled and joyful for you and your loved ones.  This season of anticipation is time for us to get ready to meet Jesus when he comes again at the "Second Coming," but, also, to fully celebrate the birth of Our Lord on Christmas.  May we be found ready.
One way that people traditionally prepare during Advent is to celebrate the Sacrament of Confession and receive God's grace and forgiveness sacramentally.  Please be aware that we have Confession available each Saturday in the open church from 4:15 to 5:00 pm.  Additionally, on Wednesday, December 16th from 7:00 pm to 8:30 pm there will be an extra opportunity, as the church will be open for Confessions then, too.  Come to Confession, especially if it has been a while.
St. Cassian Church will continue with its regular Christmas schedule: 4:00 pm, 6:00 pm and 10:30 pm Christmas Eve Masses, as well as 7:30 am, 10:30 am and 12:00 noon Masses on Christmas Day.  Please be aware of this schedule as well as the fact that you must "sign up" for the Mass that you will be attending, as there is limited seating for each Mass and we do not want to have to turn anyone away because the church is full and there is no more space.  We will also have a few additional seats downstairs in Larkin Hall with the Mass being broadcast there and someone will bring Holy Communion downstairs as we usually do for the holidays.  As I keep reminding everyone: the obligation to attend Mass on Christmas (and all Sundays and holy days) is still suspended.  Furthermore, if you are either a little "under the weather" or part of the "at-risk" population, please be cautious and stay home and view the Mass on livestream.
The next few weeks someone will be selling our beautiful 125th Anniversary commemorative Christmas tree ornaments in the church vestibule.  They would look great on your tree and it is a nice way to not only remember our special year, but it was originally intended to be a fundraiser for our Parish.
Let's keep praying for an end of this pandemic and that the new season and the New Year will be a time of good health and renewed joy.  Please be assured of my prayers for all as we journey through this holy Season of Advent.
Blessings,
Fr. Marc A. Vicari,
Pastor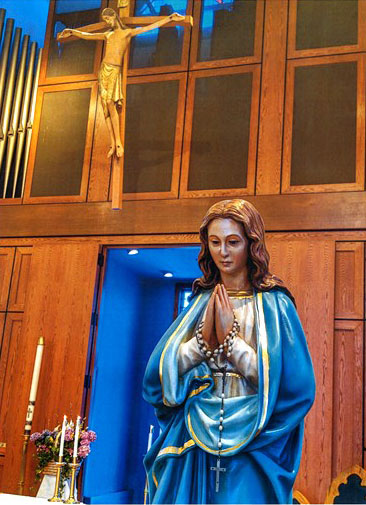 November 29, 2020: First Sunday of Advent
Dear Parishioners:
Since November is the month that we emphasize a sense of thankfulness and gratitude, I wanted to use this week's message as an opportunity to say thank you to all of you, who, one way or another, have kept this Parish running, and even thriving during this difficult year of 2020.  On September 13, 2020, I stressed my gratitude for all the Parishioners who have made the Parish what is over the past 125 years.  This time, I want to express my gratitude specifically for those of you who have helped keep the Parish and School going these past arduous months.
I am grateful for:
Those who have prayed for the health of all our Parishioners.
Those who have worked to keep our Parishioners safe, especially on the frontlines.
Those who have worked in the Parish Office, keeping the Parish operating.
Those who have supported the Parish with their prayers and notes of concern.
Those whose generosity have kept the Parish open and operating.
Those who have volunteered to clean the church in between Masses to keep it safe.
Those who have closely followed the directives so that we all remain safe.
Those who sign-up for Masses, even though it might seem so formal.
Those who have enabled us to get the live stream up and running.
Those who have kept the Parish's programs running, even from a distance.
Those who work in the school under the most difficult conditions.
Those who have been so patient and understanding with changes that suddenly occur.
Those who continue to serve at the liturgies in different capacities.
Those who have continued teaching CCD under less-than-perfect conditions.
Those who had kept the church and school neat and clean and ready for reopening.
Those volunteers who reached out to the homebound to help with their needs.
Those who have continued to actively be part of the Parish even from a distance.
Those who helped completely fund the St. Cassian Pediatric Nutrition Center in just 2 months.
Those who continue to desire the Eucharist and look forward to when we can gather again as a Parish and celebrate having overcome this pandemic.
I am grateful to all of you and your witness to faith, endurance, hope, trust in the Lord and your dedication to St. Cassian Parish and School, even during these tough times.
I am grateful to all of you, St. Cassian Parishioners!
Happy Thanksgiving and blessings to all.
Fr. Marc A. Vicari,
Pastor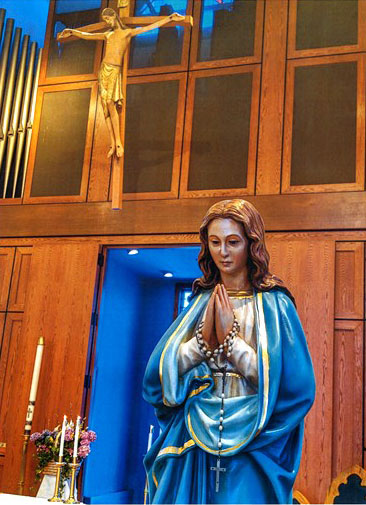 November 22, 2020: Christ the King Sunday
St. Cassian Parishioners:
It was so good to see many of you returning to Masses these past weeks, especially this past Sunday. I'm impressed, also, with so many of your stylish masks!
The last few weeks I have been repeating the fact that I need everyone to be signing up or calling in to the Parish office to register for Sunday Masses now and especially for the approaching holiday celebrations. The Christmas schedule will be available for signing up starting Monday. Each Mass is going to have a limit of 110 persons. If the Mass that you would like to attend can accommodate you, then sign up for it with your family.  However, if that Mass is full, please sign up for a different Mass that will accommodate you and your family, even if it is not your first choice.
I cannot reinforce enough how important it is to sign up or call in because I think there is nothing worse than us having to tell people on Christmas Eve/Day that there are no seats available for them in the church.  To avoid that, please make sure that you reserve your spot. Persons who live in the same household may sit together, as has been the policy. Those who do not live in the same household are still required to distance themselves from others.  All the while, I encourage people to continue to bring their own hand sanitizer, wear masks and be certain to distance from each other in the church, as well as elsewhere on the church property, with no congregating for everyone's safety.  Finally, for everyone safety, please stay home if you are not feeling well. Even those we will all do the best we can to follow all of the protocols set forth, everyone must realize that there is always a chance that some can become sick.  I know that everyone has heard this before, but I think it is important that everyone be reminded of it.
Recall that the obligation for Sunday Masses and Christmas as well as other holidays, has been suspended still. You are able to take part in the Mass from your home, watching the live stream. For Christmas, the live streamed Masses will be at 10:30 p.m. on Christmas Eve as well as 10:30 a.m. on Christmas morning. If it is best for you to stay home, and enjoy the Mass there.  It very well may be that we are all celebrating the Nativity of the Lord together, but in different places.  We will do this to stay safe.
This Sunday, we celebrate the Solemnity of Jesus Christ, the Universal King.  It is also known simply as "Christ the King."  The history of the solemnity is interesting in that in 1925. Pope Pius XI realized that there were many countries at the time, especially in Europe, where the faith was decreasing and there was an increased attention and even devotion to certain political movements and charismatic leaders.   Communism, Fascism and Nazism were on the rise and the Pope recognized them as threats to the dignity of the human person as well as a misguided alliance to a movement that was often headed by despots hungry for power without humanity's interest foremost in their policies.
Pope Pius recognized this so he instituted the Solemnity that reinforces our very simple Catholic Christian belief that Jesus is our King.  He is the King of the Kingdom of God and our allegiance first and foremost needs to be to him.   At the same time, after months of reading scriptures and saying prayers within the Mass about the future coming of the Kingdom of God, we culminate the season of Ordinary Time with the great celebration of Jesus Christ, Our Universal King.   All of our Ordinary Time lessons pointed toward the building of Christ's Kingdom and specifically to this Solemnity. It is a good way for us to remember Christ's work on earth was to build the Kingdom and we share in His work.  We are his workers and He is the King.  This is a good way for us to annually reorient ourselves to him who is our authentic, divine leader, concerned for each of us, His subjects.
Enjoy this last week of Ordinary Time and be ready for Advent to follow.  It is the season of being prepared and waiting for the Lord.
Blessings,
Fr. Marc A. Vicari,
Pastor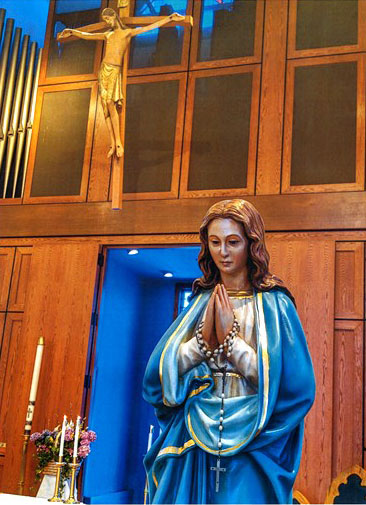 November 15, 2020: 33rd Sunday in Ordinary Time
Dear Parishioners:
These past few days have certainly been a wonderful respite from the rainy and chilly weather we have had, so I hope everyone enjoyed the past week and was able to be outside, especially before the cold winter months are upon us.
I just wanted to take a moment to give everyone a heads up about a few things. At Mass I have been reminding everyone to make sure that you sign up for Mass either online or by calling into the Parish Office by Friday afternoon. I know right now the Masses are not at capacity, but I need for everyone to be in the habit of registering, especially as the holidays approach. I am not sure yet what the Christmas schedule will hold, as we are uncertain if we will have an increase in attendance or if it will remain sparse. Nonetheless, I want to make sure that no one is turned away on Christmas because of a lack of space in the church or there are unexpectedly too many.
We will continue to use the lower Church, Larkin Hall, for overflow, as we have in the past. Recall, though, we are only permitted to have up to about 100 persons in the upstairs Church, 25% of our capacity, according to Archdiocesan restrictions.  I am not sure if we will add any Masses, but please realize that some of the Masses will be live streamed and can be viewed at home.  Recall, the faithful are still not obligated, because of the pandemic, to attend Mass in person.
Sadly, this week, the "McCarrick Report" was published by the Vatican documenting the accusations and investigative findings against former-Cardinal of Washington DC and our Archbishop of Newark, Theodore McCarrick.  Obviously, these are grievous accusations and findings against him, which no one would condone, especially me.  For Cardinal Tobin's statement as well as the full text of the Report, please find them included in the bulletin.
I want to use this as an opportunity to sadly announce that after 23 years of working in our Parish Office, Mrs. Eileen Ziegler will be retiring at the end of the calendar year. Eileen started all those years ago as part-time help and when Monsignor Jack Judge needed a secretary, Eileen took over as Parish secretary then. Since, Eileen has helped with almost every aspect of the Parish's operation and is truly irreplaceable. While she will not be working in the office anymore, she will remain a Parishioner of Saint Cassian and you will still see her.   We all thank Eileen for not only her service to our Parish, but by her service, she helped to build the Kingdom of God  Perhaps, when restriction for gathering are lifted, we can have a gathering to rightly show our appreciation for her.  At the same time, please know that I am very much in the interviewing process right now and will have someone in place for when she leaves.
November is the month that we emphasize our practice of praying for the dead.  It is a particularly "Catholic" practice to pray for the dead, especially by the offering of Mass for them, that their souls will be purified and that they will "rest in peace" until the Lord comes again.  This is why November begins with All Saints Day (Nov. 1), where we remember the saints whom we know are with God in Heaven and the next day, All Souls Day (Nov. 2), we pray for the souls that might still be in need of prayers.
Usually, we have reminders of All Souls Day around the altar, however, this year is different.  Regardless, we still offered Mass for nine days ("novena") praying that our loved ones will become saints, if they are not already.  One of the Biblical references from which our theological practice is derived comes from the 2nd Book of Maccabees (12:38-46) from the Old Testament, and says:
Judas Maccabee rallied his army and went to the city of Adullam. As the seventh day was approaching, they purified themselves according to custom and kept the sabbath there.
On the following day, since the task had now become urgent, Judas and his companions went to gather up the bodies of the fallen and bury them with their kindred in their ancestral tombs. But under the tunic of each of the dead they found amulets sacred to the idols of Jamnia, which the law forbids the Jews to wear. So it was clear to all that this was why these men had fallen. They all therefore praised the ways of the Lord, the just judge who brings to light the things that are hidden.  Turning to supplication, they prayed that the sinful deed might be fully blotted out. The noble Judas exhorted the people to keep themselves free from sin, for they had seen with their own eyes what had happened because of the sin of those who had fallen.  He then took up a collection among all his soldiers, amounting to two thousand silver drachmas, which he sent to Jerusalem to provide for an expiatory sacrifice. In doing this he acted in a very excellent and noble way, inasmuch as he had the resurrection in mind; for if he were not expecting the fallen to rise again, it would have been superfluous and foolish to pray for the dead.  But if he did this with a view to the splendid reward that awaits those who had gone to rest in godliness, it was a holy and pious thought.  Thus he made atonement for the dead that they might be absolved from their sin. (NAB)
We continue to pray for all our loved ones, especially as we begin to prepare for our next church season, Advent, which prepares us for the return of the Lord.
Blessings,
Rev. Marc A. Vicari,
Pastor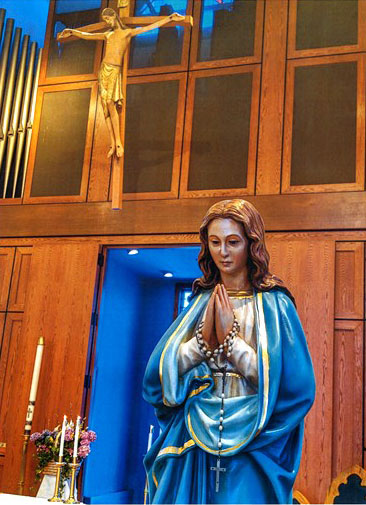 November 8, 2020: 32nd Sunday in Ordinary Time
Dear Parishioners:
I pray this finds everyone well and healthy.
This past Tuesday, at the end of Mass, a nice thing happened, as the congregation spontaneously broke out in "God Bless America."   It was clearly our way of asking the Lord to bless our country during these difficult days with Covid-19 still among us as well as during these heated political days and particularly on the day of our presidential election.   Obviously, I share in their sentiment and prayer, that God will bless our country and bestow his grace upon all.
As of the time of this message, the results of the election are still unknown. Hopefully by this weekend, we will have a clear winner.  Certainly, we all hope that there will not be any unrest and that civility will prevail.  At the same time, I pray that the level of anxiety caused by all the stressors we have been experiencing, paired with the tension of the election, will go away and we can return to some normalcy.
At the beginning of the school year, our year's "theme" was very simple: Love your neighbor.   This is the message that we are emphasizing throughout the school year so that it will carry over into everyone's daily lives.  It is a good reminder to all.  As an entire Parish, town, state and nation, I think we would do well to revisit this simple Judeo-Christian message of loving those around us, both those we agree with as well as those whom we don't.  With all the anxiety of what we are all going through right now in so many ways, I think it is good to remember how important loving our neighbor is and how it is a fundamental Christian command.
My prayer is that whomever is ultimately elected as our leader, God will bless him, fill him with wisdom and make him a good leader of our nation in God's eyes. I also pray that the toxic attitude of our nation may dissipate and be replaced with love for each other.
Finally, next Wednesday is Veterans Day and I am very aware that this Parish has many veterans among us.  We all thank them for their sacrifice and their example and willingness to love their neighbors through their service to the nation.
May God bless our Veterans and our nation.
In Christ,
Rev. Marc A. Vicari,
Pastor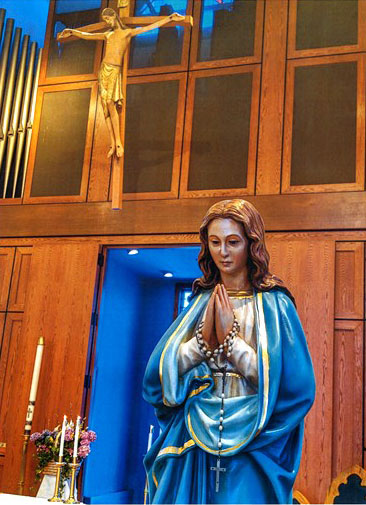 November 1, 2020: 31st Sunday in Ordinary Time
Dear Parishioners:
My prayers are for all of you, especially to stay healthy and to continue to readjust to the "new normals" that we are experiencing.  I ask everyone to continue to be patient and prayerful during these times. Work, school, relationships, an already-long political season, uncertainty about finances, stressed relationships might all have us struggling to stay calm these days.  We need to make sure that we are continuing to pray, especially with our families and loved ones; prayer supports and gives hope in uncertain times.  It gives us strength to wake up each morning and be ready to tackle what has to be done for that day.  It would be great if we prayer not only for our needs, but the needs of our friends, neighbors and our country.  The Lord knows what is best for all, so praying for His Holy Will to be accomplished would be best and it is a simple, yet powerful prayer.
As for the upcoming elections, both national and local: of course, neither the Church nor I will ever endorse any particular candidate, I would simply ask that Catholic voters will vote according to their fully formed Catholic consciences.  For decades, this has been the Church's stance on selecting a candidate to vote for.  The United States Conference of Catholic Bishops (USCCB) provides a guide in order to help Catholics form their consciences based on Catholic teachings and it is called, "The Challenge of Forming Consciences for Faithful Citizenship."  It is included in this bulletin as an insert and I would ask you to prayerful read it, as it covers many of the issues with which Catholic voters are concerned. https://www.usccb.org/issues-and-action/faithful-citizenship/upload/Forming-Consciences-Faithful-Citizenship-bulletin-insert.pdf
Finally, in a few weeks we will go to the polls (or the drop-off boxes), and I want to simply remind you all that as important as this and every election is and hopefully everyone will vote, God needs to be in charge of our lives more that any politician.  Our trust must always be in Him who can grant us salvation and peace, not an elected official.  Recall, in the Old Testament, the Israelites complained to God that they wanted a King (1 Samuel 8), a leader who would lead them, especially because all the other nations had a king.  The Lord warned them that a king will never treat and lead them as well as the Lord would.  God was their King, but they insisted on giving their allegiance to an earthly King and the Lord relented and gave them what they wanted.  Ultimately, the Jews paid quite a price for selecting an earthly king over their Heavenly King.  As badly as we want or hope a certain politician will win office, let us always remember that our ultimate allegiance needs to be to God and realize that Jesus is our King.
Psalm 146, written almost 3,000 years ago, makes this point very clear.
Psalm 146
Hallelujah!
Praise the LORD, my soul;
I will praise the LORD all my life,
sing praise to my God while I live.
Put no trust in princes,
in children of Adam powerless to save.
Who breathing his last, returns to the earth;
that day all his planning comes to nothing.
Blessed the one whose help is the God of Jacob,
whose hope is in the LORD, his God,
The maker of heaven and earth,
the seas and all that is in them,
Who keeps faith forever,
secures justice for the oppressed,
who gives bread to the hungry.
The LORD sets prisoners free;
the LORD gives sight to the blind.
The LORD raises up those who are bowed down;
the LORD loves the righteous.
The LORD protects the resident alien,
comes to the aid of the orphan and the widow,
but thwarts the way of the wicked.
The LORD shall reign forever,
your God, Zion, through all generations!
Hallelujah!
King James Version
Many blessings to all!
Fr. Marc A. Vicari,
Pastor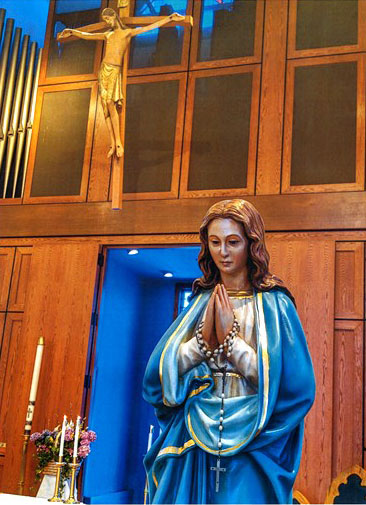 October 11, 2020: 28th Sunday in Ordinary Time
Dear Parishioners:
Greetings to all and I hope this finds you well and enjoying this beautiful time of year.
After months of playing catch-up with the Sacraments of Confirmation and First Eucharist, I'm happy to announce that with one last Communion ceremony still to occur, all of our children and young adults who have prepared for the Sacraments have received them. Congratulations to all who have received Confirmation and the gift of the Holy Spirit over the last few months in the six ceremonies as well as the young boys and girls who have received Jesus in their First Holy Communion. I am happy for all of the kids because the Sacraments help them in their quest for holiness, and at the same time, I am happy for our Parish and the Church because these events help the kingdom of God to grow. Congratulations!
I have more good news to report: there have been no reported cases of new COVID infections of parishioners by the pastors of our deanery. Our deanery constitutes Montclair, Belleville, Nutley and Bloomfield. All the parishes within our deanery have been following the guidelines very closely, so we can say that they have paid off. I ask everyone, though, to continue to follow the guidelines and restrictions closely. This means to please make sure that you sign-up for the Mass you will be attending, that while in church, you make sure that you keep a safe distance from those outside of your household and that you sanitize your hands before and during Mass. Of course, masks remain a requirement inside the church. Thank you for your compliance so far and I'm so pleased to announce that clearly these restrictions and guidelines are working well.
Finally, I just want to give everyone a heads-up that over the last few months someone has been sending false emails out to various populations of our Parish in my name. They were initially focused on school families, but apparently have become more widespread. These false solicitations are asking the recipient to purchase gift cards because either I, or someone I am advocating for, is in need. Of course these emails are false, even if they include my photo or signature or basic information such as the Parish address. We have been in contact with the authorities regarding these scams. If you ever have a question about the authenticity of a communication that you might receive, please simply call the Parish office.
Little by little, I am seeing more of you returning to Mass. I am so happy to see you all and let's all continue to pray for everyone's health and safety as well as an end to this crisis.
Many blessings,
Fr. Marc A. Vicari,
Pastor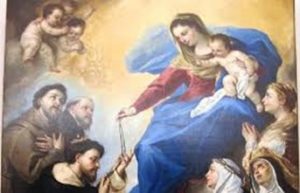 October is the Month of the Holy Rosary and the perfect time for families to pray it together.  If you are not certain how to pray the Rosary, please check out: https://www.newadvent.org/images/rosary.pdf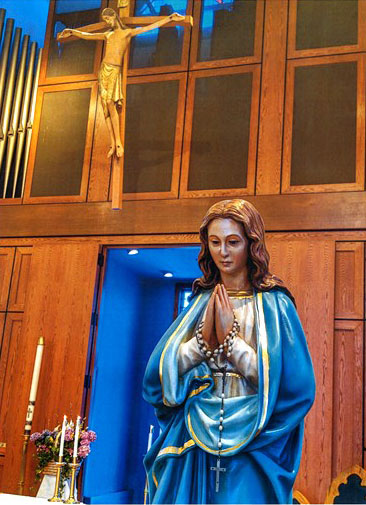 October 4, 2020: 27th Sunday in Ordinary Time
Dear Parishioners:
Over the past 125 years, there has been great change in the world and society and it is certainly no different in the Church as well as in our Parish.  At that same time, a small group of families, mostly domestics and laborers, gathered to celebrate Mass each week.  Their devotion became so fervent that the Bishop of Newark at the time, Bishop Winand Wigger (the third Bishop of Newark) determined that the territory of the "Upper" section of Montclair should form its own Parish and thus, named one, St. Cassian.
For a few years, the new Parish of St. Cassian was administered by the Pastor of Immaculate Conception Church, Montclair, as well as a few other priests until Fr. John McGeary, an associate priest from Immaculate was named the first Pastor of St. Cassian.  From that time on, both the neighborhood, as well as the Parish saw much growth, changing from a rural area to a suburban, bustling town.  With that also came great growth in the Parish, the sacramental life of the Parish, ministries and the number of Parishioners, and, eventually, a Parish School.
Now 125 years and nine Pastors into the history of the Parish, we still see continued growth in activities, ministries and Parishioners, and with all the great number of Parishioners who participate in the life of the church: most importantly by coming to Mass to pray and worship God.  At the same time, many volunteer in so many ways: beautifying the grounds, bringing Holy Communion to shut-ins, collecting food for the poor, volunteering their time in many liturgical and ministerial ways, so there is reason to believe that we will continue to grow and do great things.  I believe the best is still yet to come for our Parish!
God only knows how much the world will change in the next 125 years.  My prayerful hope is for us to stay focused on not just doing great things, but doing great things for the Lord so that others will come to know Jesus and will want to build up the Kingdom of God.  If this Parish is going to continue to flourish- and I believe it will- it will be because of the great, holy, dedicated parishioners of St. Cassian Church and all the good they will do in the name of the Lord.
Blessings,
Fr. Marc A. Vicari,
Pastor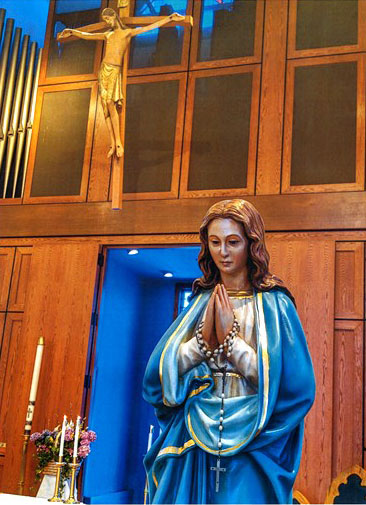 September 27, 2020: 26th Sunday in Ordinary Time
Dear Parishioners:
I hope everyone is doing well as so many of you return to work and to school (and CCD) and hopefully the transition back to somewhat "normalcy" is going well for everyone.
I want to take the opportunity to say thank you very much to Agnes Dembia who coordinates so many of our charitable events such as the food drive that we had this past weekend (as well as being the one who takes care of the plants and flowers around the property). Recall, because we were not able to have a reception with Cardinal Tobin after our Anniversary Mass, we decided to have a food drive to collect food for the needy within the Archdiocese instead.  By Sunday afternoon, we had collected almost 1,000 items of non-perishable goods! I thank all of you for your generosity as well as Agnes for the idea and orchestrating the collection and delivery.
Speaking of charity, this Saturday night and Sunday, Dr. James Morgan will be giving a brief presentation about the St. Cassian Pediatric Nutrition Center in Haiti that we are sponsoring as our Parish charitable initiative for our Anniversary. We are raising funds to build this center and to feed the needy in Haiti. Please refer to my weekly Legacy Fund section in the bulletin. As you will notice, we are about halfway there to fund the construction of the building. After that, we will fund the purchase of the nutritional supplies to be distributed.
While it has been a slow return for many, it is good to see many of you coming back each week.  I look forward to seeing more and more of you, especially our families.
Blessings to all,
Rev. Marc A. Vicari,
Pastor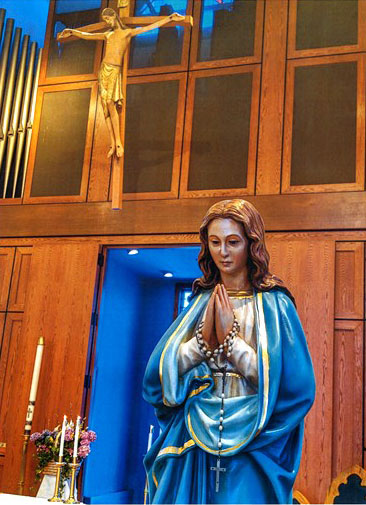 September 19, 2020: 25th Sunday in Ordinary Time
Dear Parish:
God is good!
No doubt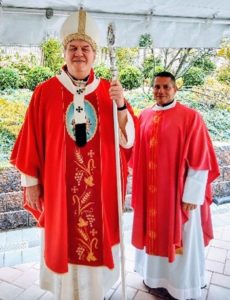 we have witnessed this a number of times in our lives, but particularly this past weekend when we had such a beautiful celebration of the Parish's 125th Anniversary Mass. What a blessing it was to have Cardinal Joseph Tobin here to celebrate the special day and to celebrate our patron saint, St. Cassian. On top of that, the unveiling of our new Statue and its blessing was beautiful as well. Thank you to all who made it possible, who attended in church as well as those who watched at home. The feedback was fantastic and I will be sure to pass it on to Cardinal Tobin.
We have begun our Anniversary Year and we will use this time to celebrate as best we can. While some of our celebratory events have already been cancelled, unfortunately, nonetheless, we will do the best we can to make this a special year, and maybe it will even have to carry over into next year, once the health crisis has passed. In any event, we still plan on doing good things.
For example this Sunday, we will be having our non-perishable food drive collection in the lower Church. Bring your non-perishable goods to Larkin Hall sometime on Sunday before 1:00 p.m.  Everything will be collected and in a few days distributed to Catholic Charities so that people of the Archdiocese can be fed and blessed with our charity.  What a nice way to celebrate our Anniversary as a Parish.
At the same time, keep an eye on the bulletin and the Legacy Fund box. The latest items to be added there are the Phase One and Phase Two parts of our collaboration with Dr. Jim Morgan to build the St. Cassian Pediatric Nutrition Center. As I've mentioned, $20,000 is needed initially for the building to be built in Cite Soleil, Haiti. Once that is collected, and the building has begun, we can look to complete Phase Two which is the purchase of the food and medical supplies that will be distributed to the poor of that city. Again, what a great way for us to celebrate our Anniversary by spreading the Kingdom of God!  Already, we have received $10,200 towards this first phase. Once Phase One is complete, contributions will go automatically to Phase Two and the food purchase. Dr. Morgan will speak at the Masses next week, September 26/27, to give more details about this most important Parish undertaking.
This week at the 9:00 am Mass, we celebrate Catechetical Sunday. It is the week that we emphasize catechesis in our Parish and we pray in a special way for our students who attend our CCD program as well as ask God's blessing upon all of our CCD teachers. Obviously, this year we will need to ask for special blessings from the Lord during these difficult times of distance learning. Mrs. Sammon has always done a wonderful job with this program and there is no reason to believe that this year will be any different.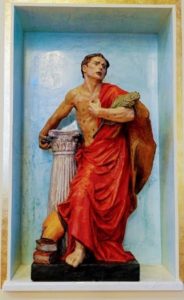 Finally, if you have not yet seen the new Statue of Saint Cassian, make sure you take a good look at it up close. The details of the martyr's life and death are beautifully depicted in this incredible statue.  Feel free to take home some prayer cards commemorating the day and the blessing, as well.
While it is slow, I am confident that we will be returning to normal soon. Let us all join together and ask the Lord's blessing on all of us during this difficult time, that He will not only keep us safe and healthy, but that he will also bless our school year, especially St. Cassian School, and our Parish's Anniversary Year.
Many blessings to all of you!
Rev. Marc A. Vicari,
Pastor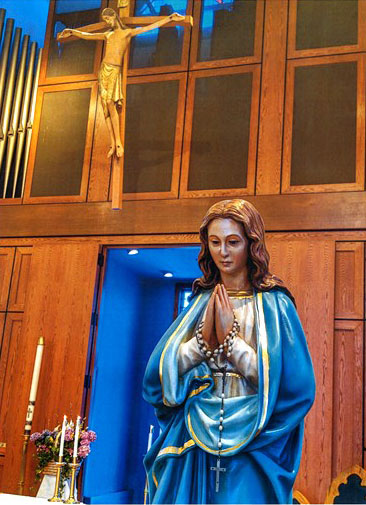 September 13, 2020: 24th Sunday in Ordinary Time
Dear Parishioners:
As your Pastor and on behalf of all eight of the pastors who have preceded me, I want to thank you from the bottom of my heart for being a Parishioner here at St. Cassian Parish! This week, we celebrate our 125th Anniversary of the founding of St. Cassian's and there would be no celebration of a Parish if there were not Parishioners who were part of that Parish and its history. I want to thank you and all those who have been a part of the Parish since its inception.
From the tiny little country wooden church that was built in 1896 on Norwood Ave., to our beautiful modern-day building, there have been many changes. At the beginning there were only about 25 families and a handful of ministries when the Parish was founded. Now we have about 1700 and continue to grow. If you have a chance, please read the history of the Parish.
It is a blessing that we have Cardinal Joseph Tobin this week celebrating our Anniversary Mass as well, as in some ways, the story of our little Parish growing into a big Parish mirrors what was our little diocese growing into our large, major metropolitan Archdiocese headed by a Cardinal! I thank Cardinal Tobin for recognizing the importance of this day and blessing it with his presence.
In last week's bulletin, I spoke of our Parish's desire to celebrate this year through our charitable work. I mentioned that I'm asking the Parish to support Dr. Jim Morgan's Lamp for Haiti work of building a nutrition center. Instead of raising funds for our own Parish's financial security, I ask that we support Dr. Morgan's initiative to build a much-needed pediatric nutrition center in Cité Soleil, Haiti, near Port-au-Prince. Part of our mission as a Parish for the last 125 years has been to build up the Kingdom of God, not only in Upper Montclair or Northern New Jersey, but throughout the world. The St. Cassian Pediatric Nutrition Center in Haiti, as it will be named, will help us do that, specifically by helping feed the poorest of the poor.
Please continue to check out the bulletin as the Nutrition Center's phases will be a part of our Legacy Fund requests. To view the video produced specifically for this project, I ask you to go to our Parish website, click on the "Donate Now" button and scroll to "featured charity" where you will be able to view the video.
Lastly, just a reminder, that next week will be our non-perishable food drive. On Sunday, September 20th, you are invited to bring non-perishable items to Larkin Hall in the lower Church. These items will be gathered and then passed on to those in need within the Archdiocese of Newark, through Catholic Charities.
Again, I deeply thank you for choosing St. Cassian Parish as your Parish and for your prayers and support over these first 125 years of our existence. My prayer is certainly joined with all of yours, asking that the Lord will continue to bless us all, invigorate us during these trying times, and lead us into a new and even greater phase of St. Cassian Parish's future.
Blessings to all of you as we begin our Anniversary Year!
Rev. Marc A. Vicari,
Pastor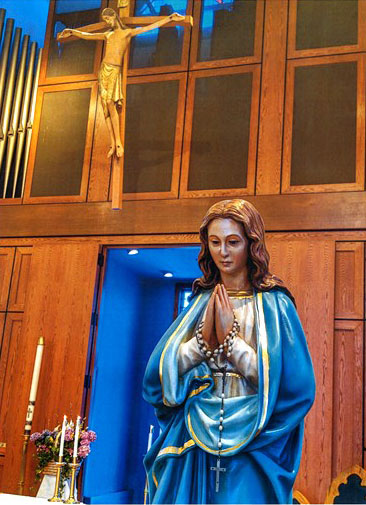 September 6, 2020: 23rd Sunday in Ordinary Time
Greetings to all!
Like many of you, I'm excited to be getting back into the swing of things. Now that our summertime is almost over, we are all certainly anticipating the fall activities. Of course, one of them is returning to church for Mass.
We have some good news that has come from the Archdiocese of Newark in the last few days. We are permitted now to open up masses to 25% of the church capacity without exceeding 150 persons. This means that a few more people are allowed into Mass. Instead of just 100, we're allowed about 120.  At the same time, I must remind everyone who wants to attend to be sure you sign up for Mass on our website or by calling the parish office. Over the summer we were able to get by without everyone signing up and permitted some walk-ins, however when everyone returns for Masses, it may pose a problem.
Next week, on September 13th at the 11:30 a.m. Mass, Cardinal Joseph Tobin, our Archbishop will be coming and celebrating our Anniversary Mass on the Feast of St. Cassian. I again insist that you sign up for the Mass if you want to attend, as seating will be very limited and I ask that you please be seated by 11:15 am. If you are not able to attend, please realize that the Mass will be live streamed and if there is any reason why you cannot attend, please view from home.
We're very excited to have the Cardinal, as not only will he celebrate the Parish's 125th Anniversary, but he will celebrate our patronal Feast day of St. Cassian. During the Mass, too, he will bless our new St. Cassian statue. Right now the statue is in the niche, but it is covered until the unveiling before Mass that day.
One of the effects of the Coronavirus is that we will not be celebrating our Anniversary year like we had hoped to. A few of the events that we had planned were for fundraising for our Parish and to ensure our financial security for the future. Not all of the events were for this purpose, but a few were and we were hoping to be able to add to our saving and operational accounts. Unfortunately, we won't be able to do that, however, I believe, that we can do something even better.
Many of you are aware of Dr. James Morgan, a Saint Cassian school graduate and long-time parishioner of our Parish. Many are also familiar with his organization, Lamp for Haiti which brings much-needed medical care and supplies to the very poor and needy in Haiti. Months ago, our Anniversary Committee determined that supporting Dr. Morgan's initiative to build a nutrition center in Haiti would be a project that we would undertake as a Parish in thanksgiving to the Lord for all the blessings we have had as a Parish over the past 125 years.  Therefore, instead of using this year to help build our financial legacy, I am asking the parish to instead support and fund Dr. Morgan's initiative in bringing a nutrition center to Port-au-Prince, Haiti.  This would be an even-greater legacy of our Parish: to help save lives and make better the lives of those who are struggling just to eat.
Dr. Morgan has filled our Committee in on the numbers needed. Right now the initial cost is $20,000 to get a simple building built in Port-au-Prince and furnished as well. That is his most immediate need and once that is complete another $20,000 is needed for the medicine and nutrition packages to be distributed to the needy. Therefore, as a Parish, we are going to forgo our Anniversary fundraising in order to help the people of Haiti simply to survive.  I believe that this is the greatest legacy that we could leave and celebrate as a 125th Anniversary project: to help save lives of poor and malnourished people. On top of that, Dr. Morgan has already said that it will be called the St. Cassian Nutrition Center in Port-au-Prince!  Please check out the video on our Parish Website featuring the St. Cassian Nutrition Center and the great work that Dr. Morgan, our Parishioner, does.
One of the Anniversary projects that we did not suspend, was having Christmas tree ornaments made in the shape of our beautiful Church. Our Decoration Committee designed the ornaments and had them produced. There will be a picture of one in the bulletin as well as a link to purchase them. These will certainly make a great gift for family members and it would be great if every Parish family purchased one for your own Christmas tree. They are available for sale next week and for the upcoming months, but I would recommend you get yours early.
Lastly, another casualty of the Coronavirus is that when the Cardinal comes next week, we won't be able to have a reception with him. I was looking forward to him meeting our wonderful Parishioners.  However, I am hoping that he will agree to a very brief and socially-distanced greeting in our back plaza.
In lieu of having a reception as we planned, Agnes Dembia and I are asking that our Parish have a food drive to help those who have been so greatly impacted by the effects of the Coronavirus.   Therefore, on September 20th, I would ask that you bring non-perishable goods to Larkin Hall, in the lower Church. What we are missing out in having a post-Mass reception I am hoping will inspire others, again, to help the needy. So, on September 20th please feel free to bring your non-perishable item (s) to our collection center in order to help others. Again, this will be another opportunity to celebrate our 125 years as a Parish by helping the needy and building the Kingdom of God!
Again, I very much look forward to seeing all of you soon as we return from the summer and begin our Year of Celebrating St. Cassian Parish's 125 wonderful years.
Blessings,
Rev. Marc A. Vicari,
Pastor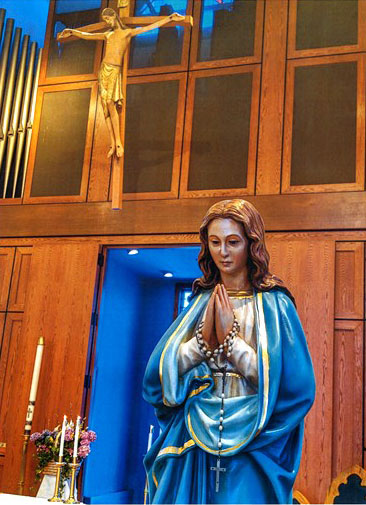 August 30, 2020: 21st Sunday in Ordinary Time
Dear Parishioners:
I pray that you are all well and being safe as we continue to work through the struggles of the pandemic.
It has been great over the last couple of weeks to see more and more familiar faces returning to Mass on Sundays. It seems that each week we are seeing more "old" faces, parishioners returning back to Mass after a while. Hopefully more of you will feel safe and will be returning. We continue to closely follow the directives and we are thoroughly cleaning between the Masses.
All the while, I know many are away for the summer, so it will be good to see you when you return.  A couple of things for you to be aware of: over the last few weeks we have been having wonderful celebrations of sacraments for our First Holy Communion children, as well as our Confirmation candidates.  Little by little, we are giving our children their first Holy Communion in small groups at weekday Masses. It has been a beautiful experience! At the same time, we have been having Thursday night ceremonies for our Confirmation candidates, confirming 10 to 14 young men and women at the ceremonies.
Cardinal Joseph Tobin has given Pastors delegation to be able to confer the Sacrament of Confirmation so we are able to Confirm many of the kids now.  It is nice that even in the midst of our continued pandemic, our kids are receiving these vital sacraments. These ceremonies with the Sacraments will continue for the next couple of weeks and we will see who is left who has not received the Sacraments and we will have ceremonies again in the fall. Stay posted.
Speaking of the Fall, registration for our CCD classes is open and available.  We have determined that it is best for these classes to be taught remotely and are planning for them to be live streamed. If you haven't registered your children yet or if you have any questions, please contact the Parish Office and speak with someone in our CCD office. While remote learning may not be optimal, it seems like the only way we can effectively and safely teach the Faith to our CCD children.
Many have asked about our statue of St. Cassian.  The statue is complete and beautiful!  It will be revealed on September 13 when it will be placed in its new niche and will be blessed by Cardinal Tobin while he presides over our Anniversary Mass.  It will be an exciting day and while the number of attendees will probably still be limited to 100 persons, hopefully everyone will be able to watch the livestream from home.
Lastly, a few months back during the livestreamed Mass, I mentioned that I am not able to reply to messages that are sent via Facebook or YouTube. I just want to remind you that if you need to contact me not to do it through social media, but just give me a call at the Parish office.
Please enjoy these beautiful summer days and I look forward to seeing you all again in a few weeks.
Blessings,
Rev. Marc A. Vicari,
Pastor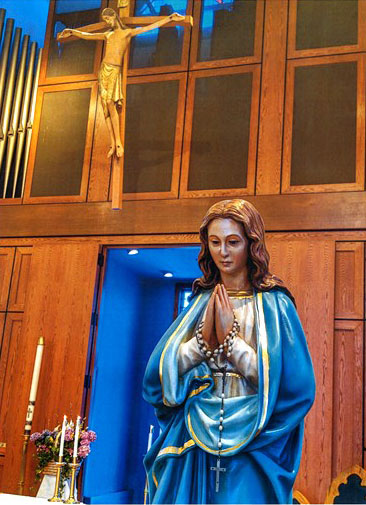 August 2, 2020: 19th Sunday in Ordinary Time
Dear Parishioners:
God is good in that he has given us a beautiful summer so far. I hope everyone is enjoying these beautiful summer days.
Two weeks ago I put three new items on the Legacy Wish List pertaining to the upgrade in our livestream capabilities. After just one week all of the items were funded as well as some additional funding for the Parish rectory's roof.  I want to thank those who have been so generous for your generosity. I also thank all of you for your financial thoughtfulness and kindness during this difficult time; it is much appreciated. Please keep an eye on the Legacy Fund Wish list in the future, as I will probably be adding more items.
I just heard good news that Cardinal Joseph Tobin is planning on being with us on September 13th at the 11:30 a.m. Mass. Of course, that is our 125th anniversary celebration. That day we were supposed to have Mass with the Cardinal, followed by a reception in our downstairs and plaza area. However, with the restrictions that are in place, I'm not sure what we will do after the mass. The good news is that Cardinal Tobin is coming at least for the Mass and we will see what follows.
Unless things change, the Anniversary Mass will be limited to 100 persons as all the Masses have been for the past month or so.  We will be asking people to continue to sign up for Masses throughout the summer and particularly for that one on the Anniversary. It is sad that we will have to keep it limited, but, of course we need to follow the directives, still.
If you have been inside our church the last few weeks, you noticed that the interior was being painted and there was scaffolding all around the church. I am happy to announce that our church is now finished with the painting both inside and out. A year ago our intention was to use this summer to spruce up the building in preparation for our Anniversary year. The interior and exterior look beautiful and I am excited for everyone to see it looking as nice now as it did 25 years ago when the new church was built.  Also, our two new statue niches are also complete except for a couple of little final touches to beautify them.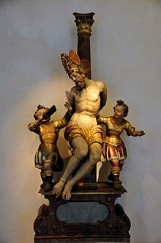 The reason why we have the niches is to hold the statue of the Blessed Virgin Mary on one side (as you might have seen already) and a statue of St. Cassian on the other side. I am very excited to announce that our new St. Cassian statue is complete (not the image below) and ready to be blessed by the Cardinal at the Anniversary Mass.  A little about the statue: we hired a young artist named Christopher Alles who studied in Florence, Italy, and is classically trained in art, to create a statue of our patron saint. Taking the details of his life and martyrdom, Mr. Alles created a beautiful piece of art that I believe you will all be in awe of.   As you may know, there are very few statues of Saint Cassian in the world, especially outside of Imola, Italy, so our Parish statue is the only one in the world like it! I think you will all be moved by the beauty and details of the statue, depicting our Patron Saint and his passion.
Speaking of St. Cassian, we usually celebrate his feast day on the 3rd or 4th Sunday of September each year, once most people have returned from the summer.  His actual feast day is on August 13 when we usually just celebrate the Mass simply. So, happy feast day of our patron saint to all of you.  As Fr. Matthew Pawlikowski said during his feast day homily two years ago, "St. Cassian has worked many miracles for the people of this Parish; we should continue to ask for his intercession!"
Many blessings to you all,
Fr. Marc A. Vicari,
Pastor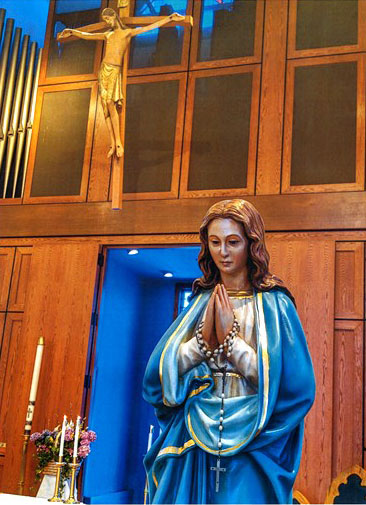 July 26, 2020: 17th Sunday in Ordinary Time
Dear Parishioners,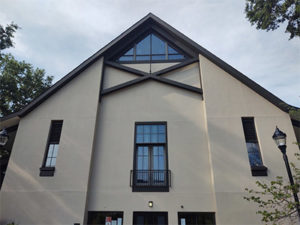 Hopefully these summer weeks have been a time of relaxation for you, getting your mind off of so many of the struggles of the world! I promise things will get better for all of us.
We have gotten such wonderful feedback about Deacon Roberto's ordination and assignment to St. Cassian church. We are so pleased to have him and he's gotten off to a great start with his preaching and his service at the altar. We pray for many years of good and faithful service by Deacon Roberto. During the summer he will be alternating Masses, so that everyone gets a chance to see his ministry.
Right now, we are doing very well with signing up for masses. Even though we have not been at capacity, the practice of signing up has been very good and well done because come September, there very well may be a need for us to continue the practice, especially if restrictions are not lifted and we are still limited to a certain number of persons at each Mass. So, please keep calling in or signing up on the website.  Of course, the 9:30 am livestream Mass is still available for those would are not able to attend in person.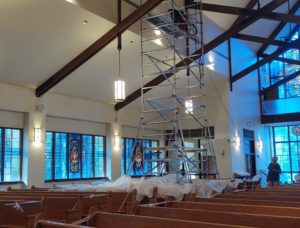 I have to give you all credit: you all have been following directions very well. I'm so pleased that everyone is wearing masks, socially distancing themselves from each other and using hand sanitizer especially before and after Communion. I thank you for your adherence to these diocesan policies. It makes life easier for everyone and most importantly, it keeps everyone safe.
The church exterior is now all complete and it came out beautiful! Check out the picture and the X-shaped cross that had become so weather beaten and now it is repaired and looking beautiful.  The interior is still a couple of weeks away from completion, but it really nice, too.  Everything is going to look great for our 125th anniversary celebration on September 13th!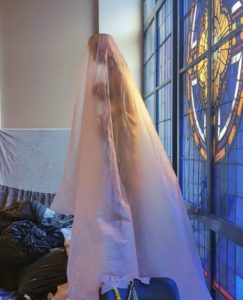 All of this work is being done because you all made it possible through our "We are Living Stones" Campaign. I want to thank you for your kindness and generosity over the years in allowing us to not only maintain, but beautify our Parish campus. Thank you for your generosity and it is made visible by our buildings.
At the same time, please notice that I have new entries for our Legacy Fund. We have a few items that we have used in order to be able to livestream Mass and meet FCC regulations for our sound system. Notice, also, some items have been funded already. Thank you!
I intend to continue working hard during the summer time in getting the Parish ready not only for our anniversary, but for many years ahead. I think you for your patience and kindness.
Please continue to enjoy the summer and come back recharged and ready for an exciting new church year in September.
Be assured of my prayers for all of you,
Rev. Marc A. Vicari,
Pastor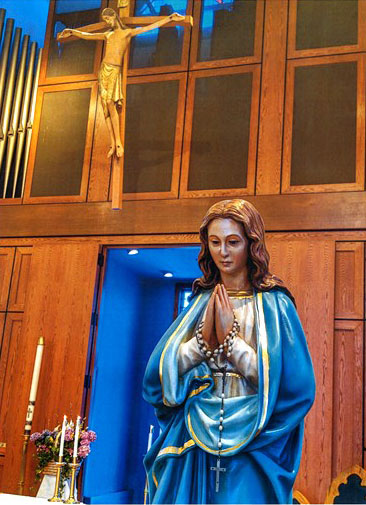 July 19, 2020: 16th Sunday in Ordinary Time
Dear Parishioners:
I hope this finds you well and enjoying the summer! I'm so happy that on July 11th, at the beautiful Cathedral of the Sacred Heart in Newark, our very own parishioner, Roberto Demetillo, was ordained a deacon in a beautiful ceremony. Because of this, Deacon Roberto now will serve at our Parish as a Deacon, serving at Masses and celebrating baptisms and weddings. Deacon Roberto is a familiar face in the parish, as he has been a Eucharistic Minister, a lector and an assistant at the altar. He is also a member of the Finance Council and has been in the parish for many years as a parishioner.   Deacon Roberto, will be preaching at Masses as well. I ask God's blessing upon him and his many years of service at our Parish.
As of right now, the restrictions for Masses remains the same. Up to 100 people are permitted at all Masses, services and ceremonies and we will continue to livestream for the time being.  Please be sure to keep an eye on our new Parish website to see if there are any updates as well as any events in the future that you should know about. Don't forget, also, that Saint Cassian Parish's 125th Anniversary is Sunday, September 13th at 11:30 am. I am hoping that restrictions will be lessened by then so that we can have a large Mass and celebration. Also, right now, Cardinal Tobin is still scheduled to be with us that day. Obviously, that may change according to his schedule.
I want to give everyone an update about the work that is being done in the church building just in case you have not been to Mass since we re-opened.  The interior is getting painted in all its original colors and it looks very nice.  At the same time, the exterior is being worked on and it looks great as well.  The work will be finished in about a month, so it will be exciting to have the church looking pristine as we enter our Anniversary year. I thank you for your patience!
Please notice in the bulletin that I have new items added to the Legacy Fund Wish List that allow for us to transition to live streaming. One item is for the video camera and various cables that allowed us to live stream while the church was closed and it allows us to continue, as well as be ready to live stream events in the future.  A second entry is for an upgrade in our audio system to help us to have sound for the live stream.  At the same time, our audio has become obsolete and soon will be illegal to use by the FCC.  The third item is for our electrician (Mautone Electric), who has been very kind in helping out the parish and has helped with installation of the devices and the running of Ethernet and sound cables.  If anyone is able to help in any way, just call the office.
Again, I hope everyone is enjoying these days the best you can in the current situation and I am looking forward to the days when we are all back together in church, praising God for His kindness.
Blessings to all!
Rev. Marc A. Vicari,
Pastor
Pastor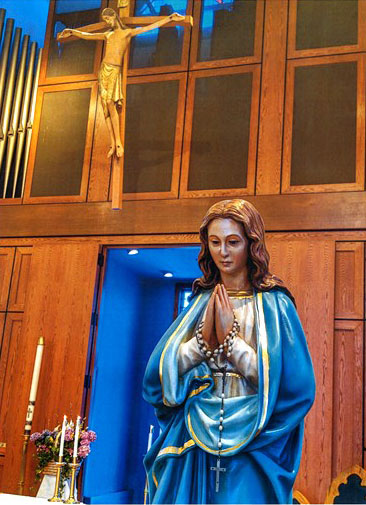 July 5th, 2020: 14th Sunday in Ordinary Time
Dear Parishioners:
It was so good seeing so many of you as we slowly re-open the church.  It has been a while.  It is incredible how much so many of the children have grown in the past few months!
I have to admit that I was very impressed with how everyone who came to Mass followed the guidelines so well: you wore your masks, distanced from each other and followed the arrows on the floor.  It was tough because we had all these new "rules" that we had to follow, but you all did so well and I am sure it will continue.  Thank you.  And a special "thank you," also, to our ushers and extraordinary ushers who guided everyone to their places and cleaned up the church and got it ready for the next Mass in a matter of minutes!  Well done, everyone!
While the reopening has gone well so far, I am very concerned about Mass attendance going forward.  My fear is that people will not return to the church the way we all hope.  We have been out of the practice of going now for a few months and the Cardinal has dispensed everyone from the obligation of Mass attendance for everyone's safety, but my fear is that because many have been away, when we are all obligated to go again, people won't. Some people have gotten very accustomed (and comfortable) watching the Mass online or on the television as a substitute to attending that they might not prioritize attendance again.
While livestreams and television Masses served a great purpose in keeping people safe and healthy, and will continue to for a while, they are severely lacking from a spiritual and sacramental point of view.  Hearing the Word of God is important as we are able to via livestream, but being present for the consecration of the Eucharist and receiving Holy Communion and being in the Real Presence of Jesus is irreplaceable. 
We are Eucharistic persons; we need the grace of the Eucharist and the gathering together of people in community to celebrate the sacred mysteries in person and there is no replacing it.  We need the Eucharist and it is important for us to remember that; the Eucharist is the central mystery of our faith and we cannot experience that in a livestream.  I probably should have done a better job of reminding everyone that the livestream is just to keep everyone connected, but that we need to physically return to Mass when we are allowed and comfortable.  As a parish, I need everyone to come back as soon as you are able and comfortable; it is important for the parish and for you.  But we all need you back.
I want to take a moment to again congratulate all of our students who have graduated from grammar school, high school or college in these last few weeks.  Congrats and while it was not the way everyone planned, all of you proved how determined and resilient you are during these tough times.  I pray that all our graduates and students, for that matter, have an enjoyable summer.
We have a new parish website that is very, very well done.  I would encourage everyone to check it out and to go on it frequently during the summer months, especially as the church re-opens and there are new updates and announcements periodically.
Lastly, in all of this craziness, we haven't talked much about the fact that September 13th is the 125th Anniversary of the founding of our Parish.  We were very much in the process of planning a full calendar of events until the virus hit and now we are not sure what events we will even have.  As of right now, we are still scheduled for Cardinal Joseph Tobin to celebrate the 11:30 am Mass on our Anniversary, so hopefully, we will be fully back by then and the Cardinal will be here.
Enjoy these nice summer days and the July 4th weekend and I look forward to seeing all of you soon, in the church, celebrating the Eucharist together.
Blessings,
Rev. Marc A. Vicari,
Pastor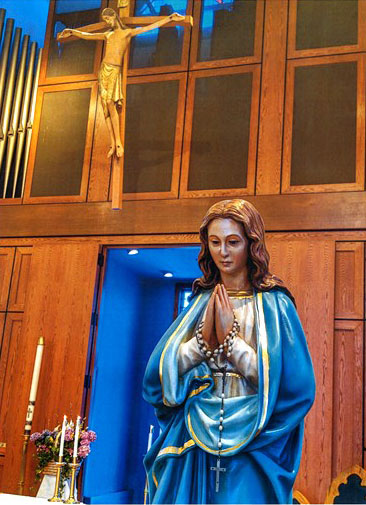 June 21, 2020
Dear Parishioners:
As many of you know, we have begun celebrating weekday Masses open to the public and that is currently limited to 50 persons. Weekday Masses are on Tuesday, Thursday and Saturday mornings at 8:15 am. As I mentioned last week at Sunday Mass, we will be having Mass this Sunday, June 21st, using our Summer Schedule of 7:30 am, 9:30 am, and 11:30 am. The Saturday evening Mass at 5:30 pm will begin next Saturday, June 27th. Right now, the capacity in the church building is 50 persons with some overflow space in the lower church for a small group to watch remotely on the television, while Communion will be brought down. However, it is necessary for those who want to attend to register online or by calling that Parish office by Friday afternoon.
At the same time, please realize that the Cardinal is still dispensing parishioners from the Sunday obligation until we are completely recovered from the pandemic. Therefore, those who are vulnerable because of age or physical conditions, it is recommended that you stay home until it is safe to return to larger groups.
Please see my "Announcements" from Sunday June 14 that explain the process of reopening the church safely and please realize that we are doing the best we can to keep everyone safe. Realize, also, however, that coming to church for Mass means that you will be entering into an area where there are other people and that there is always a possibility that a virus can be transmitted regardless of how steadfast we are in cleaning and preparing for the crowds. I am never certain when I will receive information from the Archdiocese of Newark, but I continue to pass it on to all of you as quickly as I can.
Like all of you, I pray that we will be back to normal soon, as I look forward to seeing you all again soon.
Blessings to you,
Rev. Marc A. Vicari,
Pastor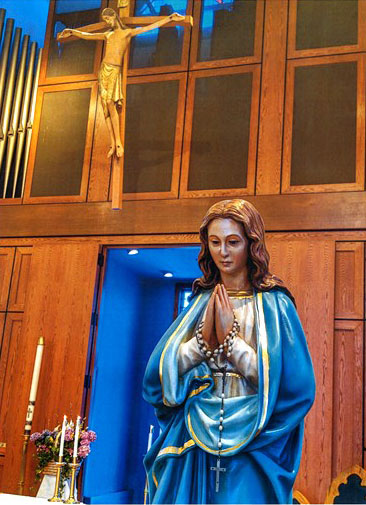 June 12, 2020 – The Most Holy Body & Blood of Christ
Dear Parishioners:
Again, this week I pray that all are well and enjoying the beginnings of summer time. A special congratulations to our St. Cassian School graduating class of 2020! It was a difficult last quarter of the school year and their resilience and ability was like no other class of St. Cassian School. Congrats, Class of 2020. Well done!
I want to take this opportunity to again thank you for all of your kind words and support especially during these past few months. They have been difficult times, but the future is looking brighter and brighter. And a special thank you to those who have continued your financial support of the parish. Your thoughtfulness, whether through Faith Direct or by mailing your envelopes into the parish have helped us to maintain our operations. Like you, I'm very much looking forward, though, to seeing you all in person again. Hopefully soon.
In the meantime I wanted to remind you again that we have a special blessing that will occur here in the parish in the next few weeks. Longtime parishioner, reader and Eucharistic Minister, Roberto Demetillo will be ordained a Permanent Deacon for the Archdiocese of Newark and will probably serve us in our Parish.
I want to use this as an opportunity to speak about Holy Orders and the diaconate and the three-fold office of the Priesthood of Jesus Christ. Deacons, whether they are permanent or transitional (transitioning from the deacons to priests), all share in the priesthood of Christ, but to a lesser degree. Deacons receive the Sacrament of Holy Orders and have been called by God for this sacramental ministry. Roberto, who will be called "Deacon Roberto" upon his ordination, will be ordained to the Permanent Diaconate meaning that he will serve as a deacon, sharing in the Priesthood of Jesus Christ by proclaiming the Gospel, preaching, baptizing children, celebrating weddings, and giving blessings, among other activities. "Deacon Roberto" will share to a lesser degree in the Priesthood of Jesus Christ, while ordained priests (such as I or any parish priest, for example) share in a greater degree, while bishops share in the fullness of the Priesthood of Jesus Christ.
The diaconate, from its origins in the first century, was created and given to the Church in order to preach the Word and provide for the poor and the needy. That is all biblical. Deacon Roberto, who will be ordained on Saturday, June 27th at our beautiful Cathedral, and will serve at the altar in a special way, as well as read the Gospel and speak Christ's words in his homilies. I am so looking forward to his ordination, as he's receiving the Sacrament of Holy Orders and will be of service to our Parish. God bless soon-to-be Deacon Roberto Demetillo!
Earlier yesterday, Governor Murphy announced that he was lifting the "stay-at-home order" and allowing larger gatherings. We are officially entering Phase Two for church openings on June 15th. Last night, the Archdiocese sent out new directives about how we will be opening the churches. It will allow for us to open for daily Masses next week. Our daily Mass schedule for next week will be Tuesday (June 16), Thursday and Saturday at 8:15 am. Adoration of the Blessed Sacrament will continue for that week at the regular scheduled times. The new restrictions allow for up to 50 persons in the church for these daily Masses, but all must continue to distance, wear face coverings and sanitize their hands.
Phase Two will also allow for funeral Masses with 50 persons or fewer. Baptisms will be part of Phase Two, but I would prefer to celebrate baptisms in groups instead of just one at a time, therefore, we will hold off a little while with the baptisms until the congregation can be a little bit larger.
Phase Three of the reopening of churches will begin with Sunday Mass on June 21st. We will begin our Summer Mass Schedule on that day with the Saturday evening 5:30 Mass, followed by the Sunday morning 7:30, 9:30 and 11:30 Masses. We will maintain this schedule until September. There will be a need to register for Masses either online or by calling the Parish office. The 5:30 pm and 9:30 am Masses will be designated as "family Masses" so that families can sit together while all others will be required to socially distance. More information on this will follow and I thank you in advance for your patience.
Lastly, this week we celebrate the Solemnity of the Body and Blood of Jesus, which used to be known as Corpus Christi. On Sunday we celebrate Jesus' Body and Blood, the Eucharist, being the central mystery of our Catholic Christian lives. Yet for so long, now, so many of us have gone without receiving Holy Communion. We suffer because we don't receive Him and His grace. In a time when our country is so divided over many things and we see such a lack of peace all around us, we need Our Lord's physical presence and divine grace more than ever.
Hopefully everyone is making spiritual communion using the prayer in the weekly bulletin, asking God for the grace that we would have received in Holy Communion. It will be interesting to celebrate this Solemnity with so many people not receiving Holy Communion. Hopefully this absence of the Eucharist in your lives and in the lives of all church members, particularly these days, will cause you to desire Him all the more! My prayer is that soon everyone will be sharing the Eucharist again, our beautiful foretaste of the Eternal Banquet.
Many blessings to all of you,
Fr. Marc A. Vicari,
Pastor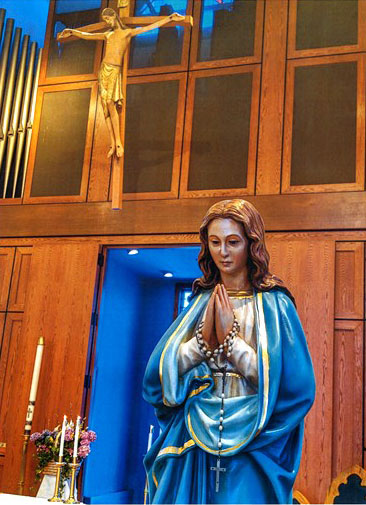 June 5, 2020 – The Most Holy Trinity
Dear Parishioners:
I received a text message from a friend yesterday that simply said, "These are crazy times, Padre!" At the same time, one of the Facebook comments from Sunday Mass was a simple, "Love Your Neighbor." No doubt we would all agree with these statements. Between the lingering effects of covid-19 as well as the social unrest, it is making for the "perfect storm" of difficult times.
Like all of you, undoubtedly, I condemn the senseless and cruel killing of George Floyd in Minneapolis. How can we all not be aghast at, not only the video of the killing, but the disregard for a human life? Like many of you, I wholeheartedly stand behind the peaceful protesters seeking justice and peace and needed change. I would ask you all to read the statement, in this bulletin, of our Archbishop, Cardinal Joseph Tobin, regarding George Floyd's death.
The national turmoil that has resulted is also unfortunate and is unquestionably delaying our physical and economic recovery from the virus. I prayed on Pentecost Sunday and I continue to pray that the Holy Spirit would bring renewal to the face of the earth and that there would be unity in our country and in our lives so that together we can fight these crises. The crisis of the virus and the crisis of injustice when innocent life is taken.
This upcoming Sunday, we celebrate the Solemnity of the Most Holy Trinity, a feast that recognizes and celebrates the unity of God as perfect love: Father, Son and Holy Spirit. Theologically, it's the day that we recognize that from the Father and the Son a love comes forth which is the Holy Spirit. These days we can pray that the hatred in our world and in our lives will be replaced with love, similar to the love of the Holy Trinity that results in complete unity. Authentic love brings unity and it is what we need now more than ever. I ask that we as a Christian people, we pray more than ever for this unity.
I want to use this message also to communicate an update about the reopening of our churches. Since the Governor announced the other day that we are entering Phase Two soon, I would expect that we will be given the go ahead to begin celebrating daily and small Masses publicly soon. As of right now, I'm not sure what the Archdiocesan guidelines will be. For example, how many people will be allowed in the church at once and what other protocols might be necessary? As I find out, I will be making them known to you all.
At the same time, realize that masks will certainly still be required and I would encourage you to again read the bulletin article that tells us "What to Expect When Churches Reopen." We will probably require some kind of reservation system to be in so that we can accommodate you all and we are working on this now in the Parish Office.
At the same time, realize that masks will certainly still be required and I would encourage you to again read the bulletin article that tells us "What to Expect When Churches Reopen." We will probably require some kind of reservation system to be in so that we can accommodate you all and we are working on this now in the Parish Office.
Of course, Phase Three will mean that we are open for Sunday Masses. Obviously, we don't know when that will begin and we all hope sooner rather than later. In the meantime, please note that we are going to go our regular, annual summer schedule for Sunday Masses. When the time comes that we can have public Sunday Masses, we will celebrate the regular 5:30 Saturday evening Mass, followed by the Sunday 7:30, 9 30 and 11:30 Masses. We will continue to live stream to accommodate those who are either compromised or believe it is best not to come to church for health reasons. The Cardinal continues to grant a dispensation for those people who cannot attend for those reasons. Again, this is all a while down the road, but I want you all to be updated as much as possible.
These are crazy times. These are difficult times for a number of reasons. We need to continue to pray for the peace and unity that only our Triune God can bring.
Prayers and blessings,
Fr. Marc A. Vicari,
Pastor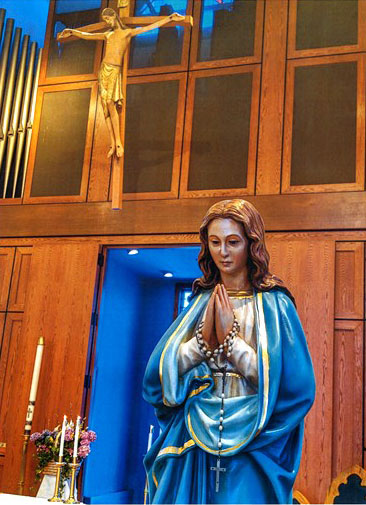 May 29, 2020 – Pentacost
Dear Parishioners:
I hope everyone had a wonderful Memorial Day weekend! Summer is upon us and at the same time, remember, also, we are one week closer to the end of this crisis. And hopefully the crisis will end soon.
This past week, as many of you know, we opened up the church a couple of days for quiet prayer. Tuesdays and Thursdays will continue to be open from 10am to 2pm. Some parishioners come early and prayed the Rosary together. Also on Saturdays from 12 noon to 4pm, the church has been open and I was there for Confessions from 2pm on. For all hours of visitation, the Blessed Sacrament is being exposed. For your safety, the church is being sanitized after each prayer session.
As of today, I still don't know when we will move to the next phase of reopening the church is, but I hope we will be able to do this soon. Of course, we will do it safely and I will inform you as I find out the plan, especially as the Archdiocese notifies pastors.
It would be wonderful if you all made visits to the church, either as individuals or as families. This is good for a couple of reasons: firstly, so that everyone stays in the physical and spiritual presence of the Lord and continue to pray as families. This is important during this time to make sure that we are making an effort to be with the Lord. Secondly, it will be a way of letting me know what kind of attendance I can expect when the churches are in fact, reopened. It will give me a gauge as to what I can expect when we start celebrating Masses publicly.
At the same time, we continue to provide services even if they are virtually. On Mondays, Greg Hann, our Director of Evangelization, gives brief theological talks. On Thursdays he leads Bible study. On Wednesday nights we have a virtual Exposition of the Blessed Sacrament. All of these are at 7:30pm on Facebook. Hopefully you'll be able to attend them as well as the regular livestream Sunday Mass at 9am. Again, I want to encourage you all to stay active in your faith even if it means simply watching on your computer at home.
Last Sunday we celebrated the Ascension of Our Lord, when Jesus ascended into heaven. This Sunday we celebrate Pentecost, when the Holy Spirit descended upon the apostles, forming the church and renewing the earth. This is what we pray for particularly this Sunday: that the Holy Spirit will come more powerfully than ever and renew our church and all the earth. We pray that the Holy Spirit will give guidance to all of our leaders, both civic and Church and that they will be guided by His Divine Presence. We pray that we will all be guided by the Holy Spirit in our lives!
Please, let's continue to pray for each other, that we are all healthy, safe, and growing in holiness.
Blessings,
Rev. Marc A. Vicari,
Pastor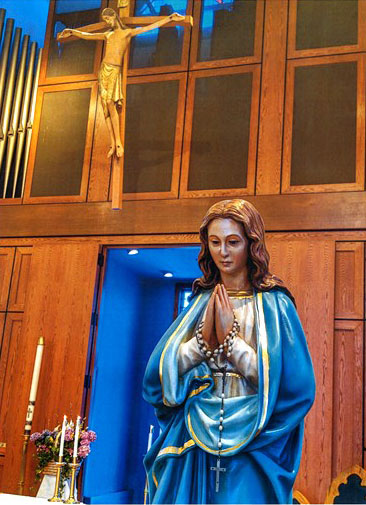 May 22, 2020
Dear Parishioners:
I pray this finds everyone healthy and well. No doubt, the nice weather has lifted the spirits of many.
As many of you know, this week we begin opening the church for quiet individual prayer. We are open on Tuesdays and Thursdays from 10 am to 2 pm and Saturdays from 12 noon to 4:00 pm (with Confessions from 2:00 to 4:00). The Blessed Sacrament is being exposed on the altar for quiet prayerful devotion. Hopefully you will all have an opportunity to come to the church and pray in person, along with your family.
As I mentioned last week we are just beginning Phase One of the church reopening. I'm not sure how long it will take until we get to Phase Two, but hopefully it will be soon and I am optimistic about this. Please see the details in this bulletin of the proposed reopening, the 3 Phases and what to expect.
There are a few things I'd like you to be aware of, so I used this bulletin message for that purpose. If you come to church, you will notice that there is a small area of the front of the building being worked on by contractors. We are having niches created in the front of the church near the altar, so that statues can be placed there. On the left will be the statue of Mary that we usually put out for the month of May near the altar. She will be in that niche. On the right will be the statue of St. Cassian that is in its final stages of creation. I think you will all be very, very pleased with how beautiful this statue of our patron saint is. I wanted to take advantage of this time where there is not much activity in the church to have this work done, but unfortunately, it has to be done while the church is in its soft reopening.
At the same time, realize in about three or four weeks, the interior of the whole church as well as its exterior will be painted. Recall, this is one of the major jobs that we outlined in the We Are Living Stones (WALS) campaign from four years ago. Again, unfortunately, the timing isn't the greatest with our reopening, but last year when we were scheduling the contractors, we planned on June as being the best time to do this work because it would be the beginning of the slow summer months. And please realize that all this work is completely funded already. It is being funded by our WALS as well as some private donations. Essentially, you all have funded this with your generosity!
I wanted to have this work done, firstly, because after 25 years the church needs to be repaired and repainted which is what we are doing. Secondly, we want to make sure that our beautiful Church looks great for the beginning of our 125th anniversary which we will begin celebrating in September. I am hoping that we will be able to have our planned celebrations, but obviously, those are still up in the air.
Speaking of the summer, too, we usually go to our summer Mass schedule at the very end of June where we go from four to three Sunday Masses. I am still deliberating what to do about this and I am planning on using Phase One information to determine if there will be less of a need or more of a need for the fourth Sunday Mass. I will keep you all abreast as soon as I know.
Lastly, if you have watched the live stream of Mass the last couple of Sundays, you probably noticed that the quality of the video and the sound have been greatly improved. Thanks to Walter Springer, we were able to get the live stream even going on both Facebook and YouTube. I would not have known where to even begin without him and he got the immediate need taken care of, thankfully! In an attempt to get the quality even better, I spoke with Lou Picciano who has set us up with top notch sound and a new camera so our live stream is high quality, as many of you have commented. I am looking to make a few more upgrades so that we can maintain this level of quality moving forward at least until we are back to normal.
Again, I thank you all for your support: financial, spiritual and friendly support. It has all been very helpful and fruitful. Know that I pray for you all each day and often that you will be well and that we can return to church soon and together thank God for His blessings, especially in helping us all get through this difficult time.
Last week I asked you all to please continue to be patient in the reopening process. I ask you, even more so, now, as we still try to figure out the best way to do it and have necessary contracted work going on at the same time. Like you all, I look forward to all of this being over!
Many blessings,
Rev. Marc A. Vicari,
Pastor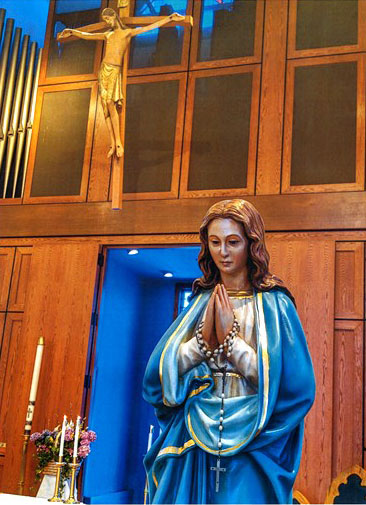 May 17, 2020 – Fifth Sunday of Easter
Dear Parishioners:
There is great news about the reopening of churches in the Archdiocese of Newark! Next week we will begin opening our Parish church for quiet prayer a few days a week for a few hours. There will be guidelines as far as people being able to visit the church and this issue of the bulletin has an outline that the Archdiocese has given us ("What to Expect When Mass Resumes"). As you will see, there will be a three-phase approach to opening the churches. The first starts next week, as I mentioned above, and then it will progress to Phase 2 and Phase 3 accordingly. The outline from the Archdiocese also gives everyone a heads up on what to expect when they return to the church. Please read the included page titled "Phase One."
Some important details to notice are that visitors will need to wear face coverings or masks, must be at least 6 feet away from each other at all times (according to pew and church indicators), visitors can only sit in designated areas at certain times and I ask everyone to bring your own hand sanitizers. I will have the Blessed Sacrament exposed during this time of prayer. I will also make the Sacrament of Reconciliation available next week, probably Saturday afternoon. (concerning this, please read point 11 in the "Phase One page.")
There is other news in the Archdiocese is that unfortunately sad. Ten Archdiocesan Catholic schools have closed. That notification from the Cardinal is included in this bulletin as well. We are not one of the schools closing. As a matter of fact, St. Cassian School remains very, very healthy, even with a waiting list. I only mention the other schools so that you all are aware of news around the Archdiocese.
Some other immediate news that affects our Parish that is good is that we have been approved for the Payroll Protection Program (PPP) and have in fact already received the assistance check that will be used solely for payroll. This is very helpful in maintaining the vitality of our Parish during these difficult times, at least for a two-month period. At the same time, I am very, very grateful to all of you who have maintained your financial support during this tough time. Using Faith Direct and mailing your weekly envelopes directly to the Parish office have been extremely helpful and I am grateful.
While we are certainly all excited about the reopening of our Church and the celebration of the sacraments, again, I ask you to please make sure that you are patient and follow the guidelines that our Parish and the Archdiocese set for it. Again, I am going to ask everyone to bring their own face coverings/masks, hand sanitizers (gloves is you choose to wear them) and follow the markings in the church. It would be impossible and unsafe for me to provide all of these for all of the visitors, so please bring your own.
While there will be many demands on those who return to church, I would ask that those who are vulnerable either because of health or because of age to please remain at home if there is even the slightest risk to your health. Parishioners are also asked to take their temperature before they come to church to make sure there is no fever.
We will continue the Sunday Mass live streams so there is no need for people who are susceptible to infection to risk their health in coming back. You can continue to watch our Mass on Facebook or YouTube or any other Mass, as it counts for your Sunday obligation.
I will keep you all informed as we move forward, but in the meantime, let's all continue to pray for a safe and speedy end to this crisis. And let's continue to pray for one another.
Many blessings,
Fr. Marc A. Vicari,
Pastor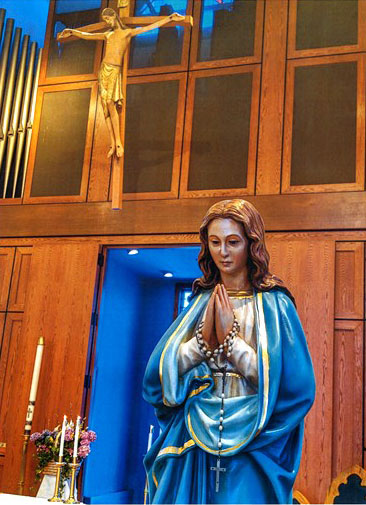 May 10, 2020 – Fifth Sunday of Easter
Dear Parishioners:
We are one week closer to getting out of this crisis! With the nice weather and spring being in full bloom, it certainly is a time of hope and a time of looking forward to the good things coming soon for us.
I'm sorry if some of you were not able to watch the live stream of Mass last week on YouTube. In trying to perfect the sound for YouTube, we ran into some "technical difficulties." I know that there were some glitches with Facebook, too. Hopefully, we get all of this worked out for Sunday and I ask that you please be patient as we are trying to get the live streams perfect.
As a parish, we do have much to look forward to, though. While at this time we have not yet been given a timeline for returning to church, clearly it is getting closer and closer. I would like to be fully prepared and ready to "hit the ground running" when we are able to resume having public Masses.
We have particular reason to celebrate in our Parish, as Mr. Roberto Demetillo, whom many of you have seen over the years as a lector and a server at the altar, will be ordained a Permanent Deacon soon at the Cathedral of the Sacred Heart in Newark. We are very happy for soon-to-be Deacon Roberto and his wife and family. He has been in the diaconate program preparing for this upcoming day for over four years. After his ordination, Deacon Roberto will serve our Parish as a deacon by assisting the main celebrant at Mass, reading the Gospel and preaching, baptizing, and working faithfully for the parish. Please keep him in your prayers as he prepares for this wonderful day of ordination and his service to the Parish. Coincidently, the first reading for Mass on the 5th Sunday of Easter speaks of the call of the first Deacons in the Acts of the Apostles. Appropriately, Roberto who was called by the Lord to be a Deacon will be our lector for Mass and it is fitting, that he reads this particular reading during Mass.
Also, something to look forward to is the 125th Anniversary of our Parish! Remember in the months passed we have been reminding everyone that the celebration will begin on September 13th with a Solemn Mass in our church with Cardinal Joseph Tobin. I know in the midst of this crisis we probably haven't given it much thought, however, I want to make sure that everyone keeps that date on your calendar so that we can robustly celebrate as a parish. Recall, we start our year-long celebration in September and will have a series of events to celebrate the history and life and growth of our Parish. I firmly believe that we will be out of that crisis by then and we will have a wonderful anniversary year.
So, dear Parishioners, I believe we are seeing the "light at the end of the tunnel." I'm certain that the Archdiocese and the Cardinal, in particular, are working on ways that we can reopen our churches and our programs safely. I want to be fully prepared for this time, so I will keep you posted when I hear any news and I am certain that reopening will require masks, gloves and social distancing for all. I believe we will continue to live stream the Mass for a while, even after the church has been reopened as a way to provide the Mass for those who are at risk and vulnerable. We will obviously talk more about this in the future. All the while, I asked you to be patient as, the "new normal" will probably not be perfect, but it will begin to point us in the right direction.
I asked everyone to please continue to pray for our fellow parishioners, particularly all of the ill. Perhaps this could be a time of even deeper devotion to Mary, our Blessed Mother, whom we crowned last Sunday as our Queen and Mother, asking her to intercede on our behalf.
Lastly, I know many of you are eager to receive Holy Communion again. I invite you to view our Eucharistic Adoration on Wednesday evenings at 7:30, at least to see our Eucharistic Lord. Also, I recommend that you pray the Prayer of Spiritual Communion written by our own Cardinal Tobin which is included in this week's bulletin. You can do this at the time of distribution of Holy Communion during the Mass, asking the Lord to give you the grace that you would have received in the Eucharist.
Again, please be assured of my prayers for all of you, especially the sick and the suffering, and please join with me in the hope of, not only the end of this crisis but of all the glorious things to come for our Parish.
Blessings to all,
Fr. Marc A. Vicari,
Pastor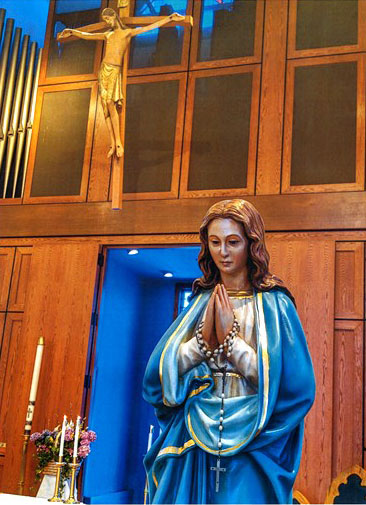 EASTER IV Message
Dear Parishioners
Again, I pray that you are all well and healthy. We are far from returning to normal, but I think we would all agree that we are getting closer to that point. While we cannot ignore those who are still sick and will become ill yet, we are grateful that the overall number of COVID-19-related infections and deaths are decreasing, pointing toward some "light at the end of the tunnel." Hopefully, we are still being vigilant about our safety. And perhaps, just as important, patient!
My hope is that we are also using this time as an extended Lent, where we continue to work on the things that the Lord would like from us: prayer, deeper appreciation of the Sacraments and Scriptures. While we can think of ourselves as being in "the desert," often symbolically representing a place of fasting and prayer, we can also think of it as a "spiritual training ground," where we prepare for something that affects us long-term.
A good question to ask ourselves is: How will we be better when all this is over? What are we doing right now, during these "desert" days that will help us in the future? We don't want to waste these days, as they can use helpful and useful in learning, growing and practicing our faith. Do we need to work on our patience, our charity, our kindness, our prayerfulness? Learning new recipes and foreign languages and catching up on Netflix programs are good and help us through this difficult period, but will they help us get closer to Heaven? I would ask all to consider this: if the crisis were to end today, would we all be in a better place spiritually? Let's not let this time go to waste; instead, let's be better because of it!
This Sunday, we will have Mass at 9:00 am as we have in the weeks past. At this Mass, we will have the beautiful traditional ceremony of the May Crowning. This is a traditional devotion of placing a crown of flowers on the statue of the Blessed Virgin Mary, recognizing her as the Queen of Heaven and earth and as our Queen and Mother. May, of course, is the perfect time to do it, as it is the month of Mary. This is also an appropriate time as we petition our Blessed Mother to rescue us from this pandemic and to intercede on our behalf and the world's behalf. While we will be honoring her with the crowning on Sunday, May 3rd, on Friday, May 1st, the Bishops of the United States will be consecrating our nation to the maternal care of the Blessed Mother.
Also, included in this bulletin is a message from Cardinal Joseph Tobin, our Archbishop, who very pastorally writes why it is good and important that we turn to Mary during these difficult days. He gives us "Five Reasons We Turn to Mary During Times of Crisis." I recommend that you prayerfully read it.
My dear Parishioners, I am optimistic that we will get out of this "pause" and that we will be able to join around the "table of the Lord," our altar at St. Cassian Church, for Mass and the Sacraments and be in each other's presence soon. We have Mary, all the angels and Saints, and each other praying for us to the Lord. With a team like that and with our own steadfastness in our spiritual training, we cannot lose.
Blessings,
Rev. Marc A. Vicari,
Pastor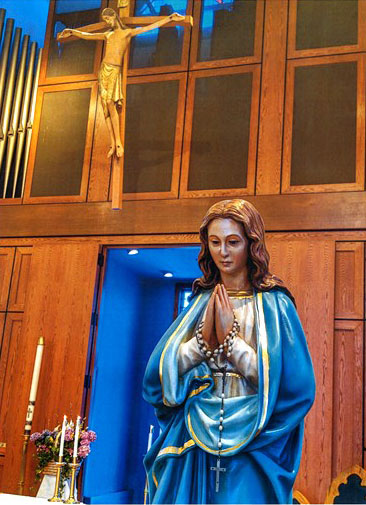 Palm Sunday Bulletin Letter
Date: April 5th, 2020
Beloved Parishioners:
Greetings to all of you and I pray you are all well. And when I say "well," I mean physically well, spiritually well and emotionally well. I know these days can be very trying, even very boring for many, but please make sure that you are taking care of yourselves and going through your regular routines as much as possible. It is important that we keep doing what we usually do as much as possible so that there is a semblance of normalcy during these tough times. I tell this to the seventh-grade class that I teach each day that they should get up take a shower, comb their hair and be ready for class so that things feel as normal as possible. I encourage everyone to stick with their regular routines.
Last Sunday at 9:00 am we were able to livestream the Mass to the Parish and beyond. I was thinking how when Alexander Graham Bell invented the telephone in 1876, would he ever in his wildest dreams imagine that it would be used to visually broadcast a religious service to people watching at home? Yet, that is what we did last week and we are planning on livestreaming this Sunday again and beyond at 9:00 am. I do not want to plan too far ahead because things are changing, especially with directives from the Archdiocese, but I will keep you as up-to-date as possible with Masses and services, especially regarding the rest of Holy Week after Palm Sunday.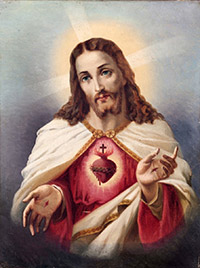 Palm Sunday
Technically, you recall, we call it Passion Sunday because it is the week that we celebrate and remember the Passion, the suffering of Jesus Christ for our sins. We start the Mass with the simple Gospel of Jesus' entrance into Jerusalem to the cheers of the crowds. The Mass, of course, ends with Our Lord being crucified. We bless the Palms which are symbolic of the palms that the residents of Jerusalem laid on the ground as a way of celebrating Jesus in the city. Unfortunately, the blessed palms from this Sunday's Mass will not be available for the Parish, as the Cardinal has asked that while we will bless them, we cannot distribute them until a later date, but make an earnest effort to virtually attend all of the Holy Week events. Below is the schedule as of now.
Service Times
Passion Sunday (Palm Sunday) Mass: 9:00 AM
Holy Thursday Mass 7:30 PM
Good Friday Stations of the Cross Service: 7:30 PM
Easter Sunday Mass: 9:00 AM
All these will be broadcast or livestreamed on both Facebook as well as YouTube which you can use the below URL. The addition of YouTube is just recent and I am glad to be able to provide this alternative to Facebook, as I know not everyone has it (me, included!).
The St.CassianOutreach2020 will continue to be making phone calls to parishioners to make sure that everyone is ok and also to see if anyone needs anything, i.e., groceries, prescriptions, etc. At the same time, while the Parish Office is closed to the public, we have continued to have a staff member to answer the phones, so if you need anything please call. You may also call if you have any prayer requests, particularly for the sick. I have been informed a those who are sick or family members who are not feeling well and I have included them in my daily Mass offerings. At the same time, please realize that if there are any emergencies, I can be reached at the emergency number: 201-704-7988. Emergencies only, please.
Many have mailed in their envelopes for their church offering and others have signed up to support the church during this time through Faith Direct. Thank you so much for your support for those who have continued their financial support. I understand that it might be hard for some, especially because of your loss or reduction in revenues. If you are able, please mail in your envelopes or even sign up for Faith Direct (www.faithdirect.net and use code NJ514). This will be very helpful to maintain the functioning of the Parish.
Lastly, please make sure that you are praying for one another, the sick, and the end of this crisis. The Pope is offering a plenary indulgence (yes, we still believe in them) to those who pray for an end to this crisis. You can find out more info by cutting and pasting the link below ("Indulgence"). Perhaps it is something you can read and do as a spiritual exercise during these quiet days. At the same time, since we are not all able to receive the Eucharist, perhaps you can make "Spiritual Communion" in the absence of the Eucharist, as it is the "desire" to receive the grace of the Eucharist as well as make an offering to the Lord. Read more about Spiritual Communion in this bulletin, as there is a two-page article on it.
In the meantime, be assured of my prayers for all of you, especially the sick and vulnerable, as well as for all our Country and our civic and Church leaders, that we will quickly recover from this difficult time.
Prayers and blessings,
Fr. Marc A. Vicari,
Pastor
An update from Father Marc
Dear Parishioners:
I hope this note finds you well and healthy and anticipating the approaching Paschal Mysteries. Even though we are celebrating Masses in an empty church, we are praying for all of your Mass intentions and especially for an end to this health crisis. I am hopeful and confident that we will be back normal before we know it.
I use this note as a way of touching base with you and updating you about what is going on with our Parish. Perhaps you have already received an email from me from "StCassianOutreach2020@gmail.com" as a way of touching base and to make sure that no one who has any needs not cared for. As I said in last week's bulletin and in the email, if there is anyone who needs anything such as food, prescriptions, baby needs, etc., and is not able to get them because of mobility issues or because of children/family obligations, please send an email to the above email address or call the office. Someone will reply to your email and we have someone in the Parish office each day from 9 am to 3 pm. I do not want anyone to "slip through the cracks."
While we certainly consider the situation a difficult one, we can also recognize that there is some good that can come from the "Stay at Home" policy that Governor Murphy has mandated. For example, so often we say that there are certain things that we would like to do "if only we had the time." We often list things like exercise, praying more, reading the Scriptures and spending more time with our family, just to mention a couple. God, in His divine wisdom, has now given us the time! Spending time with families is the most important thing that families can do together and now we are forced to do that. I hear and see that families are eating meals together again; they are exercising and playing together, and hopefully, praying together. Wouldn't it be wonderful if these things that we are doing now that we have long desired to do are things that we will continue to do once we are all back to normal? This can be an extraordinarily fruitful time for our family life and spiritual life if we take advantage of this time that the Lord has given us.
Speaking of using time well, there is a wonderful app for your phone or tablet that might be useful in growing your spiritual life during these quiet days at home. There is an app called "Hallow" which is free and you can download it to your devices and it offers various types of reflections and prayers that are interactive. It is free and you have an option to upgrade if you would like. It might be the perfect way for you to boost your prayer life.
Another way that you can continue to prepare for the Paschal Mysteries and the Easter Season is to make a visit to our church during the days. The church building is open Monday to Friday from 9 am to 3 pm and Saturday from 9 am to 5 pm. The Blessed Sacrament is exposed all day on Tuesdays, Thursdays and Saturdays. This past Saturday, as always, the Sacrament of Reconciliation was available and it was nice to have a good number of people come for the Sacrament. (To be safe, the priest will sit in the front of the open church.) Perhaps going to Confession and receiving God's forgiveness and grace this Lent is something that would be good for you.
I also want to use this note to give you an update on a few things. Firstly, we have received about $51,000 or 66% of our Parish goal of $78,000 for our Archdiocesan Annual Appeal. Thank you to those who have made contributions to the Appeal. Secondly, obviously, our offertory has been down quite a bit since there are no public Masses and collections, so I want to encourage those of you who are able during these very difficult financial times to please mail in your envelopes to the Parish office, or better yet, to use or sign up for Faith Direct, our online giving resource. Electronic giving is easy. By enrolling in online giving, you will simplify your monthly budgeting and provide St. Cassian Parish with consistent, reliable support. Please visit www.faithdirect.net and use church code NJ514. In any case, I simply ask parishioners to give whatever they can during this crisis
Finally, while there are several ways to view online streaming Masses already (the Cardinal's Mass on Youtube, while Relevant Radio and EWTN all stream), St. Cassian Parishioners have requested that we stream a Mass on Sundays. Therefore, we are going Facebook Livestream Mass on Sunday at 9:00 am and if you would like to view it, please go to our Parish Facebook page, "St. Cassian Catholic Church."
Please know that I am praying for the entire Parish, especially that you will all remain safe and that this "pause" in our routines will both end soon as well as produce great fruit.
Blessings,
Fr. Marc A. Vicari,
Pastor
FATHER VICARI'S RESPONSE TO THE ABUSE CRISIS IN THE CHURCH
Dear Parishioners:
As many of you know, these past few weeks have been a difficult time for the Catholic Church, especially in the United States and in our Archdiocese.
Just in the last few weeks we have heard of credible allegations against Archbishop Theodore McCarrick that led to his resignation as a cardinal. Then, just last week we heard about a grand jury report from Pennsylvania that named hundreds of priests with allegations against them in the state of Pennsylvania alone. Many of the allegations are extremely troubling, to say the least.
Like many of you who have expressed your feelings during these dark days, I, too, am hurt, embarrassed, scandalized, and angered by what has been revealed. I find it unfathomable that priests entrusted to the pastoral care of their parishioners, including children, would commit such heinous acts. I have always stated that there is absolutely no place in the church for those who take advantage of the vulnerable.
At the same time, I am disappointed by some of our leadership, mandated to oversee our dioceses, who did not make wise or pastoral decisions in dealing with these problems over the years. And now, many of these accusations which are decades-old, are just coming to light.
Most of all, however, I am saddened that children have been the victims of such awful abuse and have to live with the scars and wounds caused by the sins of so many of our clergy. No child or adult should have to suffer like that.
This is not the Church that Christ instituted. This is not how the Kingdom of God is built. This is not what those priests were called to do in their vocations. This is not the Catholic Church as you or I should have to know it.
While we are all angered and saddened and disappointed here at St. Cassian Church, we will not be discouraged or slow down our work of building the Kingdom of God. We will continue the good things that we do, recognizing that there is evil in the world, but it will not stop our mission of growing in holiness, celebrating the sacraments and glorifying God through Jesus Christ, I can promise you that.
Please pray for healing in our church, particularly for those who have been hurt and continue to suffer.
In Christ, Fr. Marc A. Vicari, Pastor