Welcome to St. Cassian Church
Alive
for the love of the Lord and each other
Schedule
Mass: September 26th & 27th
Baptism October 11, 2020
10/11/2020 @ 7:00 pm
Baptism October 25, 2020
10/25/2020 @ 7:00 pm
Requiem Concert
11/01/2020 @ 5:00 pm
Baptism November 15, 2020
11/15/2020 @ 7:00 pm
Requiem Concert
11/01/2020 @ 5:00 pm
Annual Advent Wreath Making
11/29/2020 @ 4:00 pm
Carol Sing Christmas Concert
12/06/2020 @ 5:00 pm
Christmas Pageant
12/20/2020 @ 2:00 pm
Christmas Eve
12/24/2020 @ 4:00 pm
Christmas Day
12/25/2020 @ 7:30 am
Mass & Event Registration
09/13/2020 11:30am
125th Anniversary Mass
,
September 13, 2020: 24th Sunday in Ordinary Time
Dear Parish:
God is good!
No doubt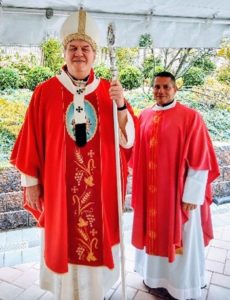 we have witnessed this a number of times in our lives, but particularly this past weekend when we had such a beautiful celebration of the Parish's 125th Anniversary Mass. What a blessing it was to have Cardinal Joseph Tobin here to celebrate the special day and to celebrate our patron saint, St. Cassian. On top of that, the unveiling of our new Statue and its blessing was beautiful as well. Thank you to all who made it possible, who attended in church as well as those who watched at home. The feedback was fantastic and I will be sure to pass it on to Cardinal Tobin.
We have begun our Anniversary Year and we will use this time to celebrate as best we can. While some of our celebratory events have already been cancelled, unfortunately, nonetheless, we will do the best we can to make this a special year, and maybe it will even have to carry over into next year, once the health crisis has passed. In any event, we still plan on doing good things.
For example this Sunday, we will be having our non-perishable food drive collection in the lower Church. Bring your non-perishable goods to Larkin Hall sometime on Sunday before 1:00 p.m.  Everything will be collected and in a few days distributed to Catholic Charities so that people of the Archdiocese can be fed and blessed with our charity.  What a nice way to celebrate our Anniversary as a Parish.
At the same time, keep an eye on the bulletin and the Legacy Fund box. The latest items to be added there are the Phase One and Phase Two parts of our collaboration with Dr. Jim Morgan to build the St. Cassian Pediatric Nutrition Center. As I've mentioned, $20,000 is needed initially for the building to be built in Cite Soleil, Haiti. Once that is collected, and the building has begun, we can look to complete Phase Two which is the purchase of the food and medical supplies that will be distributed to the poor of that city. Again, what a great way for us to celebrate our Anniversary by spreading the Kingdom of God!  Already, we have received $10,200 towards this first phase. Once Phase One is complete, contributions will go automatically to Phase Two and the food purchase. Dr. Morgan will speak at the Masses next week, September 26/27, to give more details about this most important Parish undertaking.
This week at the 9:00 am Mass, we celebrate Catechetical Sunday. It is the week that we emphasize catechesis in our Parish and we pray in a special way for our students who attend our CCD program as well as ask God's blessing upon all of our CCD teachers. Obviously, this year we will need to ask for special blessings from the Lord during these difficult times of distance learning. Mrs. Sammon has always done a wonderful job with this program and there is no reason to believe that this year will be any different.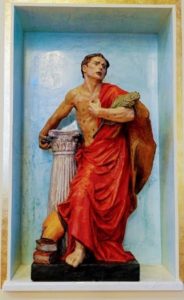 Finally, if you have not yet seen the new Statue of Saint Cassian, make sure you take a good look at it up close. The details of the martyr's life and death are beautifully depicted in this incredible statue.  Feel free to take home some prayer cards commemorating the day and the blessing, as well.
While it is slow, I am confident that we will be returning to normal soon. Let us all join together and ask the Lord's blessing on all of us during this difficult time, that He will not only keep us safe and healthy, but that he will also bless our school year, especially St. Cassian School, and our Parish's Anniversary Year.
Many blessings to all of you!
Rev. Marc A. Vicari,
Pastor
Read Pastor's Previous Messages
For God so loved the world that he gave his one and only Son, that whoever believes in him shall not perish but have eternal life.
— John 3:16